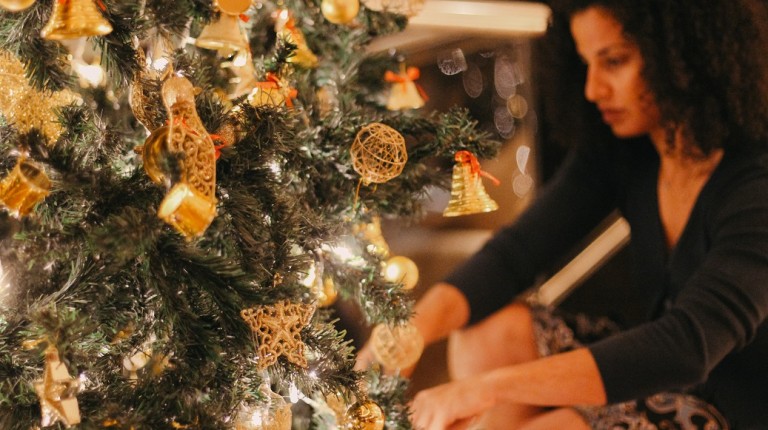 Earlier this month, one extraordinary designer and visionary manager and a relentless team spent seven consecutive nights planning and executing what could be categorised as a major first in Egypt.
From the endless hours of sewing to numerous ladder climbs, they continued to push their vision closer to reality. Fashion designer Deana Shaaban joined hands with Fairmont Nile City to create a spectacular Christmas fiesta powered by fashion.
The four-storey hotel was showered with hand-made ornaments that integrated the elegance of fashion and the brilliance of handcrafts. The designer, who has six years of experience under her belt, managed to stretch the horizons of fashion and proved that they could extend past the borders of garments.
Daily News Egypt met with the phenomenal artist to learn more about the project, her Autumn/Winter collection that was launched just a few weeks earlier, and her women's empowerment project that manifests yet another aspect of fashion.
Tell us about Fairmont's fashion festival; how was creating festive ornaments and decorations different from fashion designing?
It was one of the most exciting things I have ever done. The hotel contacted me because they were inspired by the fact that Dolce & Gabbana decorated the Claridge's hotel twice and Burberry did the same this year. Basically they wanted a fashion designer to create all the Christmas decorations.
I am a firm believer that with certain things you have to stay traditional; Ramadan and Christmas are two good examples. Some things work perfectly when transformed, but if you take a Christmas tree and change it entirely, then it is not Christmas any more.
My main goal was to keep the traditional decorations and yet give it a fashion twist. In seven nights only, we hand-made ornaments out of lace and pearls, other ornaments out of twine fabric; we made little shoes that were put on the tree, little golden tassels, and traditional ornaments.
The entire thing was decorated with fashion-inspired ornaments, since we also used buttons to create little Christmas trees. Ultimately, the tree looked very traditional from a distance and yet when you look closer you realise how fashion is immersed in the details.
The main tree was six meters tall and three metres in diameter. Meanwhile, we had five other trees and multiple banisters that circulated all four floors; in other words, it took 7,000 ornaments to decorate the place.
Aside from the tree, I also designed 40 different stockings, multiple wreaths, gift-wrapping, and candle centrepieces.
This project was a test of my willpower and determination, since it took seven extended nights due to the fact that we had to work from midnight until 7am. At one point, it was the fourth night and I was sitting in the bathtub thinking that I cannot do this any longer.
How did this project affect your designing ethos?
I realised that I am into interior décor and maybe that might be a direction that the brand can follow. The amount of research that I had to do before pulling this off was crazy, but it made me realise that my favourite part was actually researching. This was just proof that there are no limits to what one can create and it simply broadened my horizons.
After the event, I received several calls from different restaurants and venues that want me to help them revamp their spaces.
My plan currently includes creating new departments within the brand that can provide other types of design. I love fashion and design and I believe that all types of design are interrelated and I do not want to limit the brand in solely one type.
Tell us about your latest AW collection.
Over the last few years, we have had an ongoing theme as SS collections used to have lots of prints while AW were the opposite. Then I decided that Deana Shaaban was just all about prints, so why not stick to the brand's essence all year round. Therefore, I integrated a few prints while maintaining the asymmetrical lines and edgy cuts. We also weaved it in a way as since used hand-knitted materials along with wool, viscose, and polyester.
Meanwhile, we had a nostalgic theme since we used few silhouettes that have an Audrey Hepburn kind of feel; 1960s fashion. However, we kept the collection edgy and designed in a way that can fit the modern woman.
At the end of the day, unfortunately, we do not have the luxury of pampering ourselves all day long. We have to go to work and we have to roll up our sleeves and get things done. Therefore, I thought, if we have to go to work why can't we look amazing and comfortable doing so?
A lot of my clients are working mothers and so they do not have the luxury of taking care of themselves because between taking care of their kids, their houses, and their work, there is very little time to just get to sit down and take care of themselves.
Therefore, this collection revolves around the idea of giving these women the chance to just put on their outfit and be ready.
This collection shows a new direction in terms of silhouettes and cuts that are very different from your former style. What kind of leap did you want to take?
As an artist I still find myself on a path of discovery, not of who I am as a person but rather who I am as an artist. This collection I wanted to do structured lines while also keeping the flowing silhouette; I feel like these lines help us stand tall.
I think this collection is a transition towards finding a middle ground between the two silhouettes since I aim to mix them together. The label has always been super flowing and I am sure the next SS collection will go back to the same feel, because ultimately I like to feel free. I neither like to feel bound to anything nor feel suffocated. That being said, I also feel like we need a little bit of structure in our lives.
While working on this collection, I felt that there needs to be some sort of maturity and evolution regarding the label's direction and I believe that this collection represents exactly that.
Where do you manufacture your collections?
I have my own workshop now, which is divided into two divisions. Some of the workers are craftsmen who we have trained over the years. Some have not worked in the industry before and they came to us to learn everything. On the other hand, we have another division that deals with underprivileged women who suffer from poor social circumstances, have no source of income, or have to take care of their families.
We take them on, train them, and then give them monthly salaries that can help with the responsibility of their families. It gives them hope because most of these women do not have hope of any sort for a healthy existence. This also affects their kids since they start seeing their mothers become more empowered, and helps pay for their education tuitions, and finally the kids get to come and learn during their school breaks.
Meanwhile, we also give the women the option of working from home. Over the past three years, we had many incidents when husbands started getting jealous of their wives' success, so they start demanding that they stay as home. Therefore, they can work from anywhere, as long as the work gets done.
This system has been working very well, but it is not steady at all. We have had a high level of turnover and it is very disappointing because once I train somebody I truly wish that she will stay with us for a long time as they all do in the big fashion houses in Paris, where workers stay for years. But that often does not happen in Egypt.