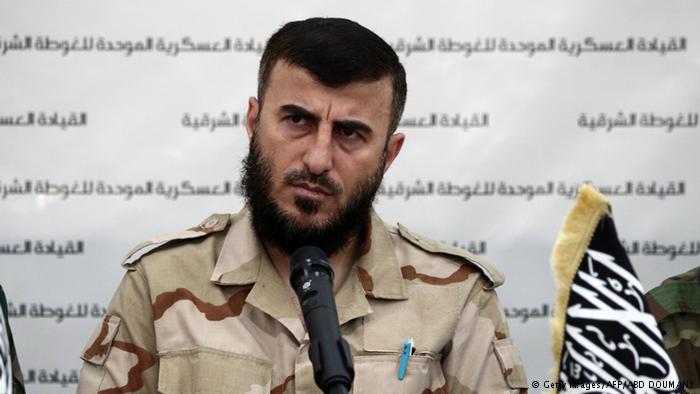 Several members of a powerful Syrian Islamist group have been killed in an airstrike east of Damascus. Rebel sources said the Jaish al-Islam's leader Zahran Allouch was among the dead.
The UK-based Syrian Observatory for Human Rights said the Friday airraid targeted the Jaish al-Islam's secret headquarter in the area of Eastern Ghouta, killing several members of the Islamist group, but the watchdog stopped short of confirming the death of the rebel leader Zahran Allouch (whose surname is also often spelled Alloush in English).
"A number of members and leaders of the Army of Islam [Jaish al-Islam] were killed, but the fate of [their] commander, Zahran Allouch, is unknown," the monitoring group said.
Two unnamed rebel sources cited by Reuters news agency said that 44-year-old Allouch had been killed in the attack. Syrian state media also reported his death.
According to the Lebanon-based Al-Mayadeen TV, Allouch was targeted during a meeting of two feuding militant groups near Damascus. It also said that, in total, 13 airstrikes hit eastern Damascus on Friday.
It is also not clear who had carried out the airstrike.
"It is not either clear if the warplane was Russian or Syrian," the watchdog added.
Allouch, who is backed by Saudi Arabia, is one of the most powerful rebel commanders in Syria. His militant group controls vast swathes of territory in Damascus' suburbs.
The news of his death comes a month before peace talks between the embattled Syrian government and opposition groups are set to start in Geneva.
shs/msh (AP, AFP, dpa, Reuters)