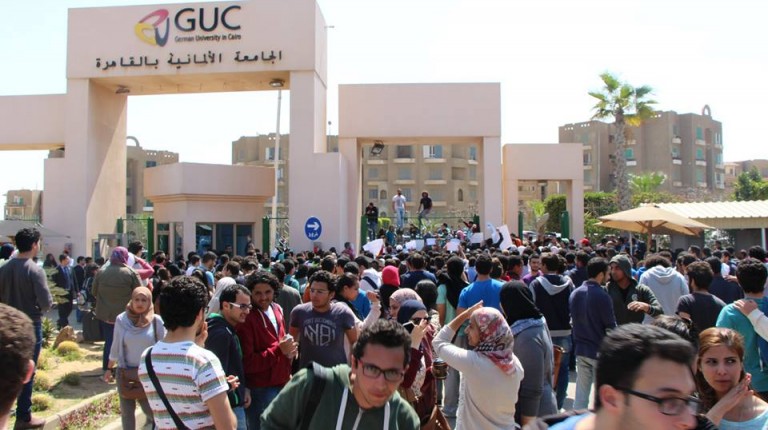 Rasha, a Sudanese refugee in Cairo, saw her financial situation ameliorate when she joined an employment project that taught her how to crochet.
"I used to depend on my husband for everything, and his salary barely covers our daily food and monthly lease […] my income has increased and now I am able to contribute to the house expenses and sometimes even go out with my friends" she said.
The way Rasha was empowered to elevate her standard of living as a refugee in Cairo, raising her income upwards of EGP 700 monthly, was not through a governmental loan, or foreign grant or even donations, but through an initiative launched by a group of 12 students at Cairo University.
Believing in the positive power of individual initiative, a community of students, academic and business leaders were brought together by an international organisation launched in 1975 under the name "Students in Free Enterprise" to provide entrepreneurial solutions for enhancing the standard of living for people in need across the world.
The organisation, which was rebranded in 2012 to Enactus – a portmanteau of entrepreneurship, action and us – currently operates in over 1,700 universities across 36 countries around the world, including 34 universities in Egypt.
At the end of every academic year, Enactus teams from each country organise a national competition to showcase their projects. The winning team from each country takes part in an international competition a few months later.
The French University in Egypt won the international competition in 2010, after qualifying from the national one. In 2015, Cairo University's team participated in the international competition, in Johannesburg, South Africa,  for the second time after they had participated in the 2011 competition, in Kuala Lumpur, Malaysia.
Enatcus Cairo University 2015 projects have provided innovative solutions for many of Egypt's ongoing social problems, such as refugees, the natural gas shortage, and enhancing the use of technology in relation to home-service providers.
"The global attention to the refugee crisis encouraged us to start looking into the issue locally, and address it through our projects," Vice President of Projects for the Enactus Cairo University team Menna Mostafa told Daily News Egypt.
Before she took charge of the entire projects department, Mostafa, a third-year student at the Faculty of Economics and Politics Science, used to run the refugees project alongside a deputy and 12 members from different majors and backgrounds.
The team started approaching local NGOs working with refugees to identify their needs. The team found that the need for employment was the most pressing and common issue, according to Mostafa. Discrimination also largely affects many refugees in Cairo, especially those from sub-Saharan African countries.
"Our main objective was to utilise their existing skills in profitable projects, and also engage them in the Egyptian community," Mostafa said.
Refugees in Cairo possessed were adept in fields related to handicrafts, cooking and industrial labour, according to Enactus Cairo University's findings. Accordingly, the team partnered with NGOs working in similar fields.
BeitMade is an online platform that links Syrian refugees in Cairo with customers to sell home-made fast food. The team helped the platform to market its products by managing a Facebook page for receiving orders and transferring them to the food makers.
With refugees who were skilled at knitting, Enactus Cairo University linked them with a project named "Florchet". Rasha, was the only Sudanese woman among seven other Syrians in the project. The women knit crochet flower bouquets and sell them.
In a video testimonial speaking on the impact of the project, Rasha explained how she came across the Florchet: "I learned of Florchet's recruitment to train women to knit and provide them with raw materials through a Syrian friend, but I applied after they had already selected the number they need."
"Nevertheless, I offered the trainer to take part in the training at my own expense, because I was eager to learn," she added.
According to Mostafa, it is not easy for a refugee to penetrate the market in Cairo, and as Egypt is a transit country for them, they all seek to learn a skill that will help them in the long-term somewhere else.
"At the beginning it was hard to gain their trust amid all the discrimination they face. Many were also seeking speedy ways of making profit," she said. Yet, the partnering NGOs were very cooperative, she added.
Moreover, the team provided the refugees with business and marketing training through VIA career counselling organisation. Next year the team plans to expand the scale of its beneficiaries to include more refugees, while also introducing a wider variety of skills and crafts.
Mohamed Abdel Shahid, the team's then-projects director , told Daily News Egypt: "During the team presentation we focused on presenting real numbers of direct impact and highlighting quality rather than merely stating the number of beneficiaries."
The refugees project in particular received notable attention from judges and teams in different countries, according to Abdel Shahid.
Since the beginning of the Syrian conflict in 2011, Egypt has absorbed 32,000 Syrian refugees, according to UNHCR figures published at the start of 2015. The Egyptian government prohibits setting up camps on its lands for refugees. Instead Syrian indirect investments have surged to reach $32mn value traded in 2012, up from $12.6mn in 2011.