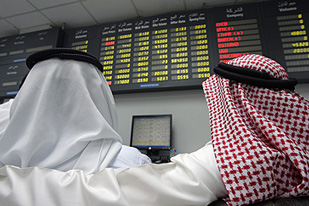 Gulf stock markets concluded the first week of trading in 2016 on a collective decline, when the price of oil dropped to its lowest in 11 years, at $35 for Brent barrel.
Saudi Arabia's market was the hardest hit, losing 9.93%, followed by Qatar with 6.35%, while Dubai's financial market lost about 5.86%. Further, Abu Dhabi lost 4%, Kuwait shed 2.49%, and Muscat declined by 0.76%.
Negotiations with two Russian companies
Egyptian Iron and Steel Company said in a disclosure statement to the Egyptian Stock Exchange (EGX) that the Ministry of Investment is negotiating with two Russian companies. Talks include the development of the company's furnaces, but the company did not receive any official correspondences regarding the negotiations or their results.
Egyptian Minister of Investment Ashraf Salman said in December that the ministry is considering two Russians proposals to develop the furnaces of the Egyptian Iron and Steel Company and the battery of the coke plant. This would raise production from 300,000 tonnes to 1.2m tonnes, Salman said, noting that the better offer will be chosen early 2016.
Egyptian Media Production City relies on self-financing to operate Magic Land
The Egyptian Media Production City said it decided to restart Magic Land early 2016 through self-financing from the company's resources.
This comes as an alternative to financing from an unnamed company in Hong Kong, which would be more difficult due to the restrictions imposed by the Central Bank of Egypt on exporting hard currency abroad, allowing only $100,000 per year.