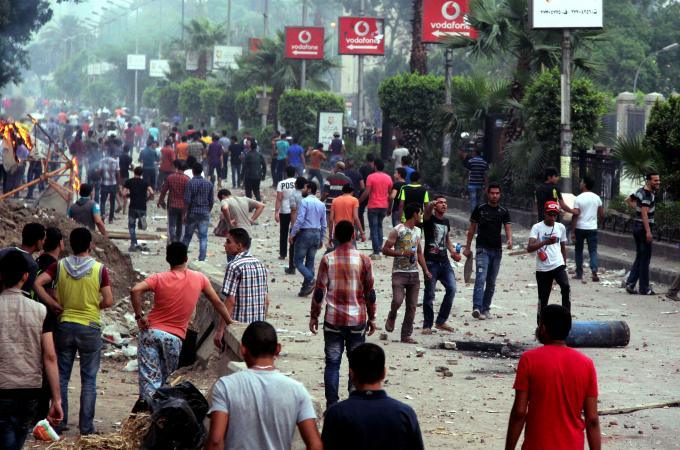 The Sayeda Zeinab misdemeanour court sentenced three photojournalists to three years in prison in absentia on Monday.
The three journalists were arrested while covering the arrival of the dead bodies of Muslim Brotherhood members who were killed in July 2015 in front of the Zeinhom morgue. The journalists are Hamdy Al-Zaeem, who was working for the privately owned Al-Shaab newspaper, freelance reporter Sherif Ashraf, and Al-Tahrir newspaper reporter Mohamed Adly.
Their defence lawyer will issue a rejection on the verdict instead of an appeal, since the verdict was issued in absentia, in a bid to decrease the number of years in prison or release them on bail.
Dozens of journalists were arrested on the same day by security men but were released immediately afterwards.
The Sayedah Zeinab prosecution decided to release the three aforementioned journalists about a month after their arrest on a bail of EGP 10,000 while investigations were ongoing. They had faced charges of working without a permit, working for Al-Jazeera channel, and belonging to a terrorist organisation.
"The three journalists were members of the Electronic Journalists' Syndicate lead by Abu Bakr Khallaf, who was arrested in a different case," member from the local Journalists against Torture Observatory (JATO) on press freedom, Ayaat Ahmed, told Daily News Egypt. "Khalaf had been interrogated regarding the three journalists' case as well as other two other cases. Yet the journalists' case verdict remained pending until the initial case against Khallaf is done. The journalists' case was reopened 15 days ago by court for final verdict."
"The journalists were holding press passes from the electronic syndicate, which is not official. I believe this was the reason behind their arrest," another member of JATO, Ashraf H., told Daily News Egypt at the time of their arrest.
He also said nine more journalists were stopped while covering reports in the period of 30 June through 3 July but they were all released the same day. The list included journalists from newspapers of Al-Fagr, Al-Masriya, Veto, Al-Bawaba, Al-Youm Al-Sabea, Masrawy, and freelance photojournalists.
More journalists have been arrested over the past few months as the anniversary of the 25 January Revolution approaches. In December, JATO said in a report that 60 cases of violations took place against journalists in January.