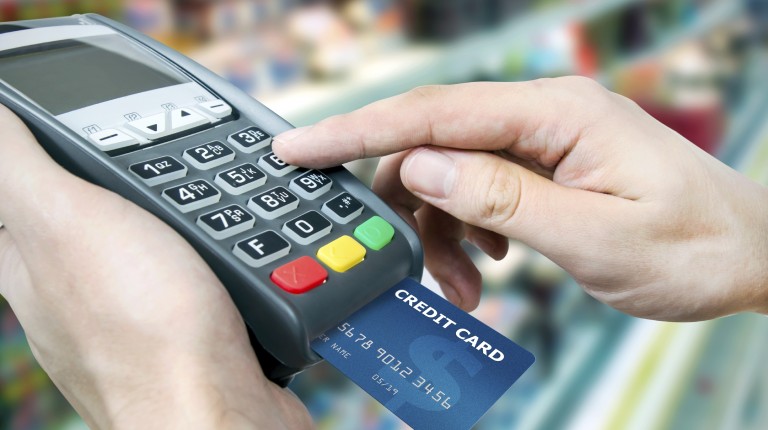 General Manager of Visa Egypt Tarek Mahfouz said Egypt is ripe for a significant spread of electronic payments in the near future due to widespread use of mobile phones and increasing citizen awareness.
Mahfouz told Daily News Egypt, in exclusive statements, that Visa accounts for approximately 61.5% of credit cards issued around the world, and its stake in the Egyptian market is not very different. He expects 2016 to witness a significant increase in the number of Visa cards issued in Egypt, thanks to the initiative to issue government payroll cards.
Mahfouz confirmed that Visa is working to support the retail sector and banks operating in the Egyptian market by providing products and solutions appropriate for all types of customers. He explained that Visa will soon launch the mVisa service in cooperation with a number of banks.
What is your vision for electronic payment cards in Egypt? How many banks cooperate with Visa?
We cooperate with most banks operating in the Egyptian market to provide new payment products and services.
I would like to point out that the electronic payment card market is growing steadily in Egypt, especially with the government's current movement towards improving the quality of services provided to citizens by making electronic payment options available for several public services. This encourages all parties to make electronic payments and offer new products and services that meet their needs.
I believe Egypt is ripe for a dramatic spread in electronic payments due to widespread use of mobile phones, which can be used to make payments. Citizens are also becoming increasingly aware of the importance of electronic payments and their impact on the economy in general and citizens' lives in particular.
Here I would like to draw attention to the fact that global consultancy firm Deloitte issued a report on the economic impact of Internet payments in Europe, which confirmed that online payments contributed approximately €125bn in total output for the economies of the EU in 2012.
A study prepared by Moody's and commissioned by Visa demonstrated that electronic payments made through cards contributed approximately $1.1tn to the global economy from 2003 to 2008.
How many Visa cards exist in the market and what is your target for 2016?
According to an assessment issued by Nielsen, Visa's global market share is estimated at 61.5% and our stake in Egypt is not very different. I believe 2016 will witness an increase in the number of Visa cards in the Egyptian market, especially with the move toward issuing government payroll cards.
What role is Visa playing in the project to automate government employee salaries?
We are cooperating with the National Bank of Egypt (NBE) and Banque Misr to issue government payroll cards and we hope to produce 50% of the cards.
I want to emphasise here that the lesson does not lie within issuing the cards or the number produced, but in that the project requires great efforts and altering spending patterns so that we can jumpstart spending through payroll cards.
Awareness is key to this project so that employees are aware of basic information about the cards, including the fact that no fees will be deducted from employees' salaries and that the exact amount will be transferred onto the payment card.
The salary card boasts a high degree of security and convenience and enables the employee to provide for their basic needs and pay for services without having to carry cash. If the card is lost, employees will be able to obtain another one without suffering any losses. If the employee loses cash, on the other hand, the money cannot be refunded.
This is the type of information and awareness which will be imparted upon employees so that they can use the salary cards smoothly and securely.
As part of this programme, we signed a Protocol of Cooperation with the Egyptian Banking Institute to create a programme to spread a culture of payment through salary programmes.
This programme aims to educate and prepare workers in the government sector with the information required to use government payroll cards to purchase goods and services and pay electricity, mobile and landline bills, and other basic services. It will also increase state employees' awareness of bank accounts, their importance, and how to handle electronic payment cards effectively. It is off to an ambitious start, and the ultimate goal is to educate all state employees. In the first phase, approximately 120,000 employees from various government agencies will be targeted.
It will rely on direct and indirect communication methods with mechanisms including direct seminars with government officials and training courses. It will also include unconventional ideas aimed to create an environment full of information, where government employees can learn easily and interact to serve the requirements of the government payroll card.
What role does Visa play in revitalising the retail sector of Egyptian banks?
In the framework of a strong partnership with banks, we support the retail sector with products and solutions suitable for individuals from all walks of life. We support the banks', Central Bank's, and state's efforts to spread financial inclusion. Visa has several products and solutions that provide a variety of payment options to bank customers, allowing them to conduct safe, easy, and convenient financial transactions.
At present, we are working with a number of banks operating in Egypt to launch services through mVisa to expand, accept electronic payments, and enhance the payment experience for Visa cardholders.
The mVisa service works on smart phones or those regularly connected to the Internet. Egypt is the second country Visa is working with to launch the project after India.
mVisa targets the most merchants with the goal of facilitating and spreading their work and represents an ideal tool for financial inclusion. Anyone carrying a mobile phone can purchase products and services, saving time, effort, and costs associated with transfers. This service can be used to pay electricity, gas, and phone bills, and so on.
Fraud is almost nonexistent with this service because the consumer must enter the amount intended to be paid via mobile phone and the merchant receives a message on his phone confirming receipt. There is no need to use a card or to visit a point of sale.
mVisa is important because of its potential to spread as well as how simple it is for various types of merchants to utilise the product in all areas, especially remote ones where banks find it difficult to establish a presence due to the burdens of higher costs and maintenance. This service also allows for funds to be transferred from one individual to another.
What is Visa's role in jumpstarting the electronic payment system in Egypt?
Visa cooperates with various parties to jumpstart and handle electronic payments. We cooperate with banks to launch products and services that offer multiple electronic payment options and we are also working with the government to support its efforts to jumpstart electronic payments.
Visa signed a Protocol of Cooperation with the Social Fund for Development in collaboration with NBE to support the government and raise awareness of electronic payment methods for SMEs.
This protocol allows fund clients who own SMEs to purchase and sell products offered on the website through electronic payment cards on NBE's electronic payment portal.
Visa also cooperated with the Ministry of Finance to prepare a study on electronic government payments and the Ministry of Communications and Information Technology to work on another study on e-commerce and its future in Egypt.
What role did Visa play in bringing about financial inclusion in Egypt?
The challenges against the use of payment cards are often related to culture and a culture of using cash in particular.
To promote and disseminate a culture of electronic payment, all parties must explain the advantages of these payments and the positive impact on the economy in general and citizens in particular.
Visa held an education and training course for Egyptian journalists in cooperation with the Al-Ahram Institute.
Visa has also held training courses for its partners, such as the Social Fund, and has an outreach programme associated with the government payroll card initiative. Visa is continuing its efforts with banks in this regard.
In your opinion, how are electronic payments important to the Egyptian economy?
Electronic payments, if applied on a large scale, will save paper and effort on part of the government, granting clients the advantage of obtaining their money almost immediately instead of waiting for paper checks to be verified. This will allow work to be completed faster and improve the collection cycle and liquidity ratio.
An expansion in electronic payments will help decrease the cost of government progress on several projects at the forefront of which are fuel subsidies and the cost of managing cash.
Electronic payments are safe, save time and effort, and enhance transparency within the financial system. They allow for the informal economy to be integrated and contribute to GDP.
E-commerce, which is largely related to the electronic payment system, will mainly contribute to reducing the size of informal economies.
In your opinion, what must the government and banks do to achieve financial inclusion?
The Egyptian government and banks are making visible efforts to spread financial inclusion, which is illustrated by a keenness to provide products and solutions with electronic payment options.
This was demonstrated through government decisions to pay salaries and collect customs and taxes and pay suppliers electronically.
The more electronic payments from the government expand, the greater the prevalence of financial inclusion on the Egyptian market.
How do you think financial inclusion will be achieved in Egypt in the face of rising poverty, unemployment, illiteracy, and low incomes?
Poverty, unemployment, and low incomes exist in many countries around the world and the lesson here is that by offering multiple payment options, everyone can benefit from electronic payments.
Allowing salaries to be paid electronically serves all state employees regardless of their income level and the services provided by the government to citizens and taxes and dues collected for electricity, gas, and landline bills motivate all citizens regardless of their standard of living.
All these services can be paid through the electronic payment options and this represents the heart of financial inclusion.