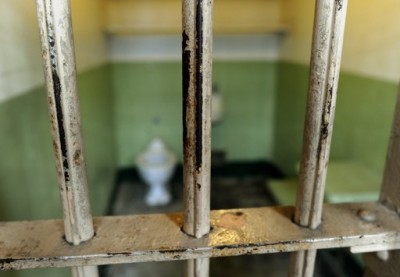 A prisoner in the city of Sharqeya, Hussein Mohamed Radwan, died in detention Tuesday, two days after his arrest, amid claims by his family that he was tortured.
Lawyer Khalaf Baioumy told Daily News Egypt that Radwan, 42, was arrested without a warrant from the prosecution for no clear charge on Sunday 24 January. "Two days later, his family was requested to come and pick up the body from the Abu Hamad police station."
The deceased was known to have been an active participant in anti-government protests, according to Baioumy. "He was also known to have Islamist inclinations; to the extent he was called Shiekh Radwan."
The lawyer added that the incident should be investigated as "Radwan was arrested without any legal documentation; he was forcefully taken by the police after which, he died".
The official narrative, which was announced by the Ministry of Interior, details that Radwan died by hanging himself in the Abu Hamad prison in Sharqeya "as he suffered from psychological problems".
The ministry added that he was arrested while participating in a "pro-Brotherhood" march, and that investigations concluded that Radwan was "one of the most wanted members [of the group]".
After receiving a report from the Sharqeya Security Director, the prosecution unit in the governorate examined the body, which was transferred to Al-Ahrar hospital.
Radwan's funeral was attended by hundreds of mourners, family members, and anti-government protesters in the village of Faqous, who denounced the incident, and took the opportunity to start a chant against the police force.
They accused security forces of "eliminating" Radwan, chanting "Retribution! Retribution!"
Faqous is a village in Sharqeya, known for hosting massive anti-government protests every week. It is one of the many Egyptian villages that were raided by riot police and Special Forces since the ouster of Islamist president Mohamed Morsi in July 2013.
Baiomy said the preliminary report by the prosecution and Forensic Medicine Authority announced that the cause of death was due "heat issues".
"We are awaiting the final report from forensics. But so far we know that there are no marks on his body indicating torture or suicide."
Human Rights Monitor, an NGO based in London, condemned the incident, describing it as a "violation against the right to live".
According to a report by the Arab Organisation for Human Rights in the UK (AOHR), there have been 267 cases of extrajudicial killing by Egyptian security forces in 2015.
Egyptian security forces have deployed deadly force to disperse peaceful gatherings, killing 62 people including six children and three women, alleged the report. There were also 159 detainees who died in police custody due to lack of medical care, injuries resulting from torture, and deteriorating conditions inside prison and police stations.