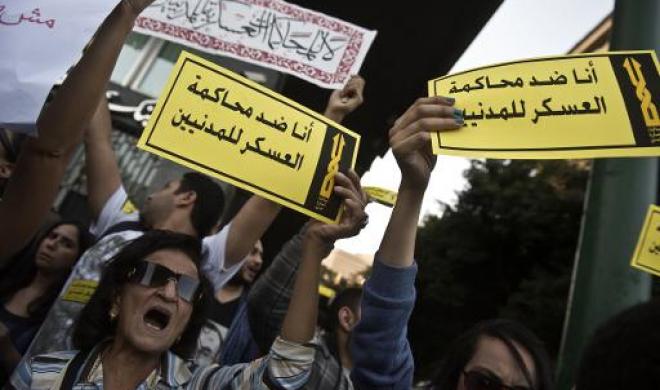 The Alexandria Military court sentenced eight defendants to death Sunday, and referred their papers to the Grand Mufti on charges of planning to "assassinate military figures, and committing acts of sabotage."
While the mufti's referral is necessary for the approval of a death sentence under the Egyptian legal system, this decision can still be appealed.
The court alleges that the eight defendants belong to the "specialized intelligence committee", a putative tactical militant arm of the now-banned Muslim Brotherhood.
Of the eight defendants, two were convicted in absentia.
The eight defends were sentenced as part of a larger trial wherein 28 defendants are charged with planning to assassinate army personnel, sabotaging electrical and communication infrastructure, and operating under the auspices of the international direction of the Muslim Brotherhood, according to the prosecution.
The court will decide the fate of the remaining defendants on 13 March.
Egyptian state-media reported that the military prosecution had charged the defendants with having received training from a terrorist organisation. The prosecution purports that the defendants received training from terrorist organisations in Syria in how to conduct " assassinations, kidnappings and the manufacture of explosive charges."
Sohaib Saad, 22, was one of the defendants sentenced Sunday. Saad was reported missing in June 2015, but appeared in a video published online by the Ministry of Defence a month after his disappearance, claiming to show the individuals confirming their membership in a terrorist network and claiming responsibility for attacks on state facilities and personnel.
In the video, Saad confesses to purchasing a weapon that then was given to another member to assassinate a police officer involved in the dispersal of the Rabaa Al-Adaweya sit-in in August 2013.
Saad is also one of five facing trial in the Al Jazeera case—also called the 'Marriot cell'—charged with conspiring with journalists from the Qatari media network. The defendants maintain they have no relationship with anyone from the outlet.
Several activists have declared their solidarity with Saad, one of many civilians subjected to military courts. Activists have claimed that the defendants were coerced to confess to the charges.
The Egyptian state's practice of prosecuting civilians in military courts has been widely criticised by human rights advocates, especially after the state began to increasingly target university students.
Since last October, 184 students have been referred to military trial, according to a survey undertaken by the Egyptian Commission for Rights and Freedoms (ECRF). Since the approval of the Anti-Terrorism decree in October 2014, the number of civilians referred to military trials is estimated to have exceeded 2,000, according to a member of the No to Military Trials independent movement.
The most notorious military trial is that of the Arab Sharkas Cell, in which the defendants were accused of killing soldiers during a military raid in the village of Arab Sharkas in March 2014. Despite a lack of evidence, the six men were sentenced to death and were executed last May, according to Human Rights Watch.