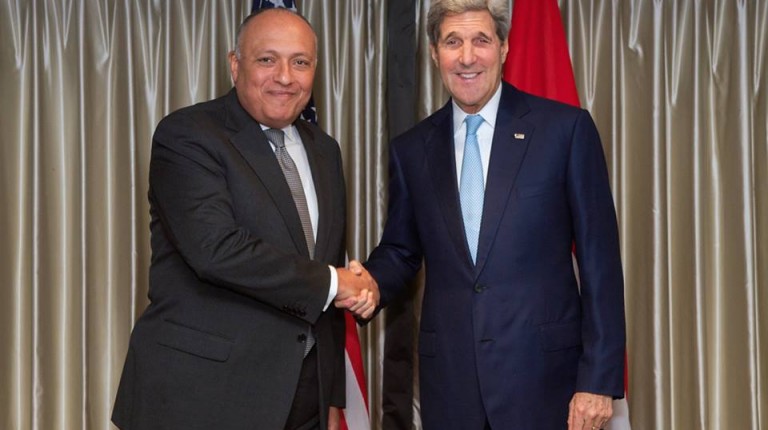 Egyptian-US relations have been the keystone of Egyptian foreign policy throughout the past decades, Egyptian foreign minister Sameh Shoukry said Tuesday.
Shoukry told journalists, after his meeting with US secretary of state John Kerry Tuesday in Washington, that Egypt is committed to strengthening relations with the US on the political and economic levels, to address bilateral issues.
"I am here to reiterate and emphasise the importance of our strategic relationship with the US. This is the foundation, the cornerstone of our foreign policy for the past decades, and continues to be beneficial to Egypt, and I hope beneficial to the US," Shoukry said in a joint press conference with his US counterpart.
He added that the US's position globally and Egypt's regional standing will allow them to address these challenges together in the most appropriate and fundamental manner "so as to regain the security and the stability of our region".
According to Shoukry, both countries are engaged in discussions over the next two years regarding the UN security council.
Kerry said Egypt faces major economic challenges, noting that the US respects the important role Egypt has played within the region.
"The success of the transformation that is currently being worked on is critical for the United States, and obviously, for the region and for Egypt", Kerry added.
Both ministers addressed the turmoil in Libya and the bilateral concerns about the spread of terrorism in the oil-rich country.
Shoukry presented the Egyptian point of view regarding fighting "Islamic State" (IS) in Libya.
"Again, our perspective has always been a comprehensive approach in dealing with all terrorist organisations and to the political, economic, and social conditions that have enabled this expansion of the terrorist threat," Shoukry said in the press conference.
Recently, US media reported that the White House is reviewing plans for launcging strikes against IS in Libya. However, in an interview with the Washington Post, Shoukry said it would be best to not rush to intervene in Libya until a national unity government is formed.