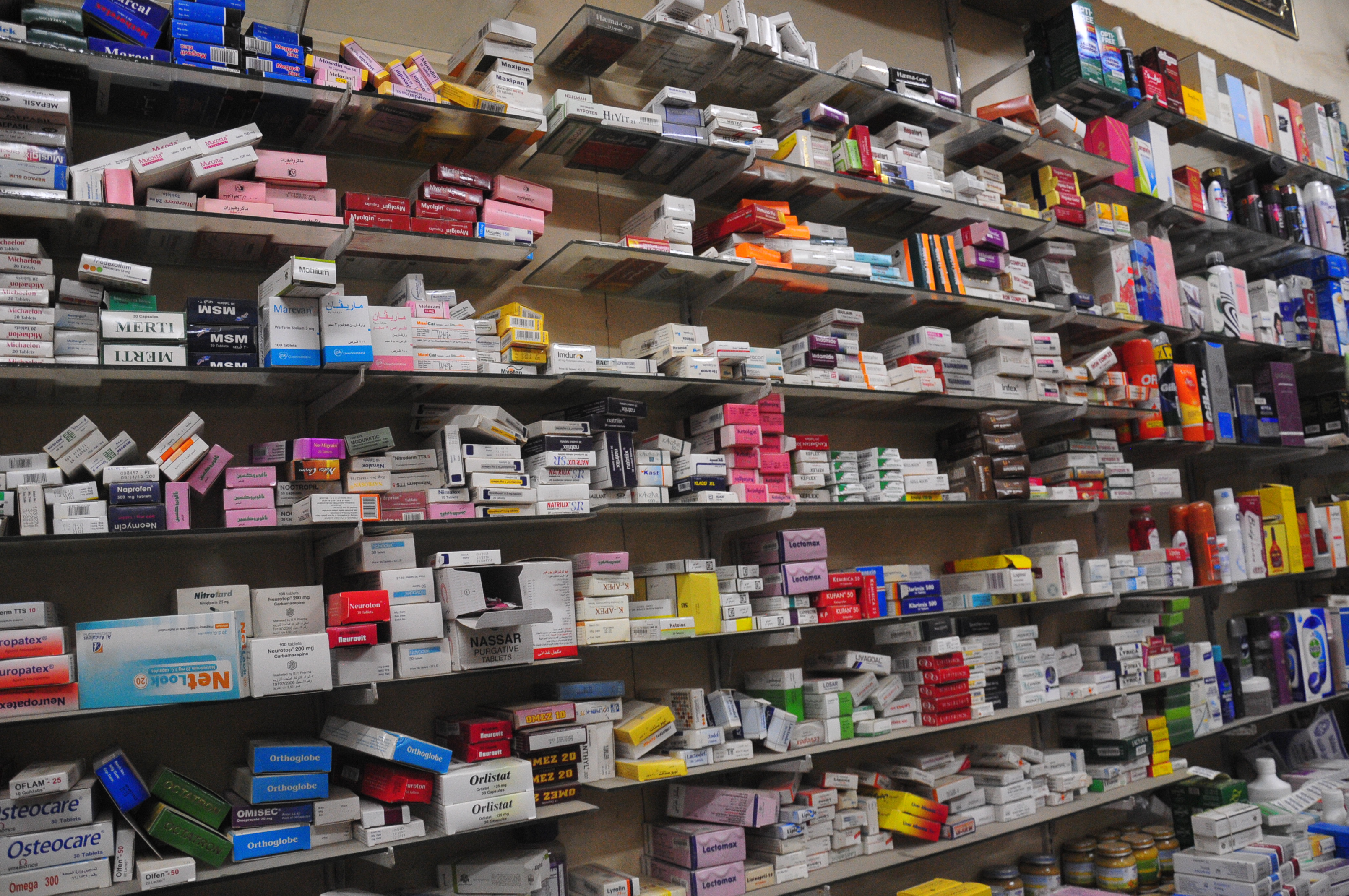 Hosny Attia, 67, was diagnosed with arrhythmia two years after retirement from his lifelong career as a teacher. His health condition had been stable overall while he was taking the prescribed medications, up until the point when he was unable to find neither the medicine nor the alternatives the doctor had prescribed for him.
"The sudden shortage of medicine has caused severe deterioration to my health," he told Daily News Egypt.
As of late October 2015, 90% of crucial medicines for heart, blood pressure and diabetes were suddenly scarce on the pharmaceutical market; among them Cordarone, which is used to treat abnormal heart rhythm disorder and prevents a number of serious cardiac complications, such as a cerebral stroke that could lead to death.
Even for health ministry workers, the chances of finding Cordarone were similarly slim. According to Leila Labib, 43, an employee at the Healthcare Unit of Menouf in Menufiya, she cannot find the medicine anywhere. "I resort to my son, who works abroad, to buy it for me, but this means I have to wait much longer," she said.
Following nearly nine months of shortage, the Ministry of Health said it distributed 113,000 packets of Cordarone to Egyptian pharmacies in October in a bid to overcome the shortage. It also said it aims to produce an alternative medicine called Cardio Mep.
The move was perceived as a temporary palliative to the problem rather than a real solution, according to medical experts. The amount handed out  is insufficient as the medicine is still missing in many pharmacies.
In a visit by Daily News Egypt to an El-Ezaby pharmacy in late October, located near the ancient Coptic hospital in downtown Cairo, the branch manager Mohamed Madian said Cordarone was not in stock. The reason, according to Madian, was unclear.
"This medication has eluded the Egyptian market for a long time, as well as its alternatives, which undeniably burdens patients, doctors and pharmacists," he said.
"Even though the ministry has tried to counter the lack of medicine, in practice there is still a shortage," he added, suggesting the manufacturers could be responsible.
Saeed Al-Alfi, owner and manager of Al-Alfi pharmacy in Shoubra, said: "I doubt the company is still manufacturing it."
Painfully aware of the want for solutions, he says he instead tells Cordarone customers to go back to their doctors and request an alternative prescription.
Meanwhile, at a branch of Fouad Pharmacy, located in the suburbs of Giza, Cordarone is also out of stock . Pharmacist Ali Asaad said it is not available there or at any of their other branches. Moreover, the medicine was also missing at Al-Helal pharmacy, located in Menuf city in Menufiya.
Manufactured by the global health firm Sanofi Aventis, Cordarone's average price was EGP 20, making it an affordable and convenient resource for many patients. The availability of the medicine has been low for the past two years, without a clear explanation.
An employee from Sanofi, who wished to remain anonymous, told Daily News Egypt the problem is mainly related to the dollar price rise and the high cost of the raw materials compared to its price in the market. Personnel from Sanofi's administration were not available to provide further details on the problem.
Though extra amounts of the medicine are being supplied to all pharmacies, medical experts said in interviews early February the risk of future shortages persists, as the shortage is linked with broader economic challenges.
Ahmed Abu Doma, board member of the Pharmacists Syndicate said: "The dollar price rise has rendered the medicine costly, in terms of importing the raw materials. Yet its price is low compared to manufacturing costs, so private pharmaceutical companies cease its porduction."
Similarly, Mohi Obaid, chief of the Pharmacists Syndicate, said the majority of laxative drugs are unavailable, despite many complaints to the ministry. This shortage possibly indicates that demand has outpaced supply.
However, he added: "The Egyptian Chamber for Pharmaceutical Manufacturing also strives to overcome the shortage of raw material in markets and has implemented plans for medical firms to produce medicines locally."
The rise in dollar value has also caused a shortage of many other medicines besides Cordarone, according to Mahmoud Fouad, managing director of a local independent group, the Egyptian Centre for the Right to Medicine (ECRM).
"Albumin, vaccines, Alchortjan, saline solution, drugs for diagnostic radiology, pigment, haemophilia and kidney disease are among many medicines that are missing due to the dollar rise," he said.
According to Fouad, about 500 types of medicine are scarce; some alternatives made up for the shortage, however, they are more expensive than in their country of manufacture.
"It is more than just a shortage; it is a death sentence for many patients who need these medicines urgently," said Ibrahim Abdel Monsef, consultant cardiology surgeon at Menufiya University.
According to Abdel Monsef, alternatives have already been manufactured but they are virtually non-existent as well. He believes this is due to pressures on the government from the manufacturing company, purportedly aiming to sell the medicine at a higher price in the future. "It's a health issue of a national concern."
"There is corruption within the pharmaceutical sector; staff sell large amounts of medications to the black market or to their relatives" leaving underprivileged patients to slowly die, he added.
Back at the Pharmacists Syndicate, Abu Doma further suggested: "The state must support the governmental pharmaceutical manufacturing companies by encouraging scientific research and technical knowledge to enable them to manufacture crude materials locally."
"There is an urgent need for a supreme body that focuses its attention on safe medicine delivery and ensures its effectiveness for the patient."