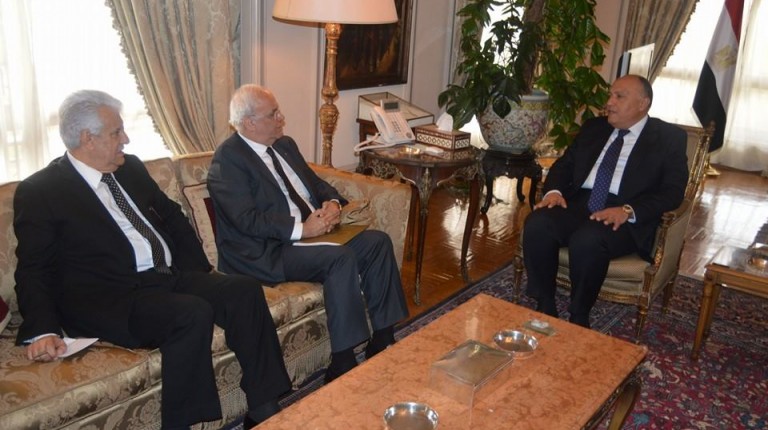 Secretary-General of Palestinian Liberation Organisation (PLO) Saeb Erekat confirmed Tuesday the importance of Egypt's role in supporting the Palestinian case.
After his meeting with Egyptian foreign minister Sameh Shoukry, Erekat told journalists that both sides spoke about the continuing Israeli violations towards Palestinians including field executions, mass punishments, and mistreatment of captives.
Erekat also discussed the UN resolution project for Israeli settlement with Shoukry as Egypt is the Arab nations' representative in the UN Security Council. "Palestine and Egypt are fighting the same fight; we rely a great deal on the efforts of the Egyptian president and the Egyptian foreign minister," Erekat said.
Regarding the French's idea to hold an international conference for peace, Erekat told MENA this is just a thought and an initiative does not guarantee mechanisms on the ground. Leaders from Arab nations will gather to discuss this idea and respond to France.
"We think that holding an international conference for peace on the basis of international law, scheduled permitting, may be a suitable idea to find a solution," he said.
Palestinian president Mahmoud Abbas and US secretary of state John Kerry recently met to discuss Israeli crimes and violations, in which Kerry affirmed his commitment to a two-state solution, "but this is not new", Erekat said.
Erekat also met Arab League Secretary General Nabil Al-Araby to further discuss the Palestinian case.