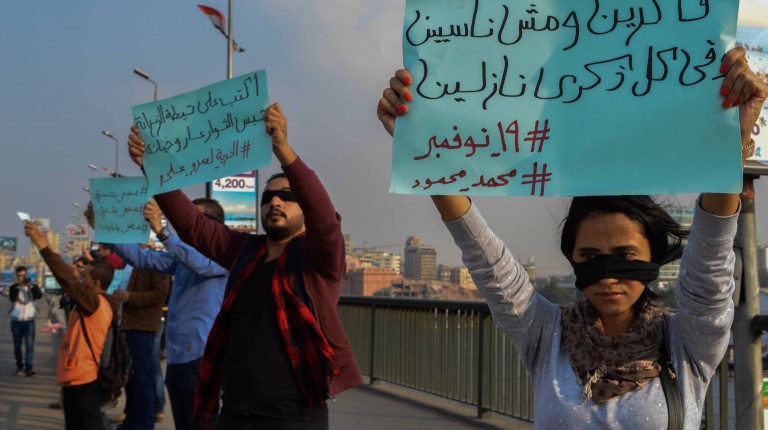 The Qasr Al-Nil Criminal Court acquitted nine protesters on Tuesday who had been formally charged with violating the Protest Law and sedition, stemming from their arrest in November on the fourth anniversary of clashes between police and protesters on Mohamed Mahmoud Street.
The nine detainees were accused of having obstructed traffic and possessing literature that called for the "overthrow of the regime". The nine protested in commemoration of the violent Mohamed Mahmoud clashes, holding a silent demonstration on the Qasr Al-Nil Bridge.
The defendants were previously released on bail. However, the Qasr Al-Nil court granted the prosecution's motion to revoke their release in December.
The controversial Protest Law was issued by interim president Adly Mansour. Since its enactment in November 2013, the law has been heavily criticised by human rights groups for violating the constitutional right to freedom of assembly and expression.
On 18 and 19 November five years ago, hundreds of protesters demonstrated on Mohamed Mahmoud Street against the controversial constitutional principles of the El-Selmy document, which they claimed gave the military excessive influence over elected members of parliament and the constituent assembly responsible for drafting the new constitution.
During the two-day demonstration, protesters clashes with police forces, resulting in more than 1,000 injured and at least 40 persons dead.
The constitutionality of the Protest Law is currently being contested in front of the Supreme Constitutional Court. Human Rights Watch called the law as "violating international standards".