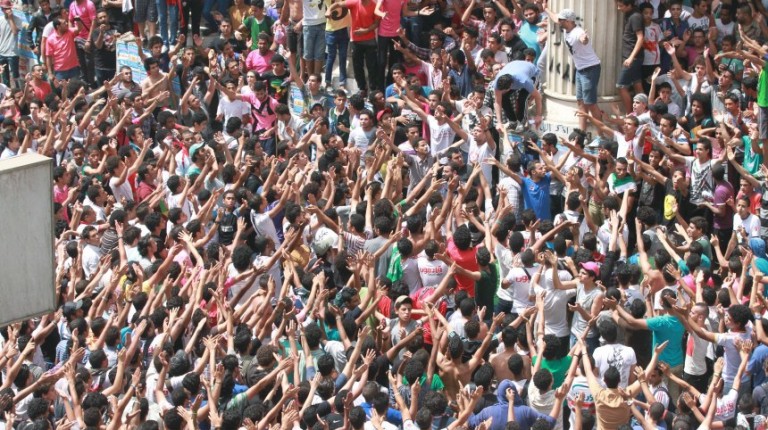 The Giza Criminal Court, headed by Judge Moataz Khafaji decided Thursday to acquit and release Sayed Moshageb and Ayman Abdul Hamid from charges of establishing the "illegal" group "White Knights".
Prosecution against the defendants were charged of founding White Knights illegally and details included sub charges such as calling to suspend the Constitution, prevent state institutions from exercising their work, disturb public security, threaten social peace, rioting, inciting violence on police, and possession of explosives to be used in violent crimes.
Ultras White Knights issued a statement on their Facebook page, accepting Giza Criminal Court's verdict and addressed the charges to President of Zamalek Club Mortada Mansour of being a stirrer and involved in the "Air Defense" massacre.
"We called to re­investigate into the case of the massacre and this happened and we demand to release all UKW fans accused of this issue and put the real criminals," UWK 's statement read.
Mansour filed a case earlier, calling for all Ultras football groups to be disbanded, providing examples of riots such groups were reportedly involved in. Zamalek management boycotted the club hardcore fans, the Ultras White Knights, indefinitely in August following an attack on Mansour by unidentified gunmen near the club.
At least 36 members of Ultras White Knights are currently detained pending investigations for violating the Protest Law when they demonstrated against the detention of colleagues who are accused of the apparent assassination attempt.
Mansour has been a controversial figure in Egyptian society since the 1990s with a resume full of contentious public statements and lawsuits.
Since playing a role during the 25 January Revolution in 2011, Egyptian football Ultras groups have become strongly involved in the country's heated domestic affairs.
Using their physical and organisational capabilities, the Ultras have featured prominently in recurring confrontations with security forces and also took part in numerous protests, though not all, since 2011.