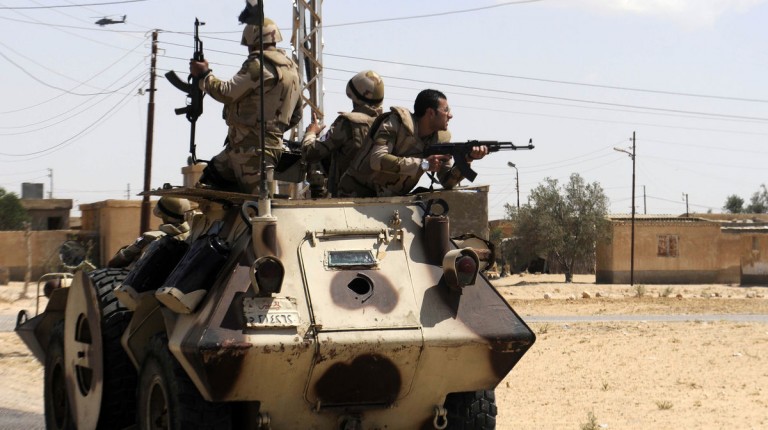 Military operations carried out by police forces and Egyptian armed forces in Sinai resulted in the deaths of "Sinai Province" militants Friday, centralised in Rafah and Sheikh Zuweid in North Sinai.
Security authorities indicated that 10 "Sinai Province" militants were injured and killed in the Karam El-Qawdis region situated of Sheikh Zuweid.
Unconfirmed reports said the militants were attempting to break into security checkpoints in Karam El-Qawdis, when security soldiers opened fire and artillery towards them, killings four and injuring six.
Further, a police officer was reportedly killed Friday after being injured in clashes with militants in the city of Rafah. The officer was immediately transferred to Maadi Military Hospital to receive health care, but died in hospital.
Last week, three soldiers were killed in an attack on an army patrol near Sheikh Zuweid. An IED ambush struck the patrol near Al-Wahshi checkpoint. At least one soldier was injured, according to local reports. The army is yet to officially announce its account of the attack.
"Sinai Province", affiliated to "Islamic State" (IS), claimed responsibility for the attack and published photos depicting the details, followed by a photo report of recent attacks in North Sinai over the course of the past month.
Reports circulated by "Sinai Province"-affiliated social media pages said militants also conducted a series of attacks on Wednesday using IEDs near the villages of Ber Beda and Khreza in central Sinai.
Egypt has been engaged in a war on terror in the North Sinai region since 2011. Violence by extremist militants increased in the region following the 25 January Revolution in 2011.
Attacks peaked in 2013, after the military ousted former Islamist president Mohamed Morsi and the Muslim Brotherhood government from office following the 30 June uprising.