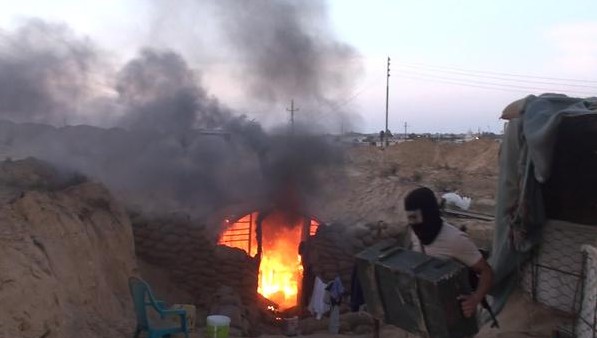 A police officer was reportedly killed on Friday by an IED during a patrol in Sheikh Zuweid city in North Sinai.
The officer, Mohamed Gamal, was patrolling to capture militants from "Sinai Province", according to state-run newspaper Akhbar Al-Youm.
State-security forces on the same patrol killed 12 militants on Friday night during airstrikes against "Islamic State"-affiliated groups in North Sinai. Apache helicopters were used to target several facilities of IS-affiliated militants; aiming to eliminate ammunition stores and vehicles, according to testimonies from residents on social media.
"Sinai Province" broadcast video footage on Saturday showing two "martyrdom operations" launched against two army checkpoints in Sheikh Zuweid by three of the militant group's purported moles.
The video showed a further message by the three alleged infiltrators, who claimed that will carry out more attacks. The three broadcast their commandments to their families and Muslims around the world, urging them to join the jihad, to threaten the current Egyptian regime and storm prisons to free captives.
The IS-affiliated group also published photos on social media showing a celebration for graduates of a new faction of snipers.
An investigative report published by Israeli newspaper Yedioth Ahronoth claimed that "Sinai Province" is believed to have brought weapons into Egypt through tunnels from Gaza. These tunnels are considered the "main source of weapons" to militants in Sinai and contribute to weapon industry in the Gaza Strip, according to the report.
According to Egyptian security officials, Hamas built these tunnels  for the transfer of "fighters and weapons", as well as building materials and other imports, in an effort to break the siege imposed by Israel on the Gaza Strip.
According to Yedioth Ahronoth, the Egyptian government considers Hamas as the "main exporter of weapons" for jihadists and IS-affiliated groups in Sinai; most of the rockets used by "Sinai Province" fighters are made in the Gaza Strip.