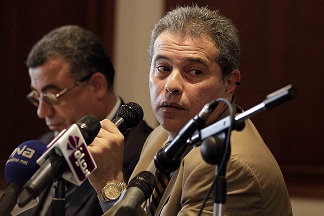 Prosecutor-General Nabil Sadek issued a travel ban Saturday against former MP and TV host Tawfik Okasha, pending investigations into several reports filed against him, state media reported.
According to the general prosecution, Okasha forged a PhD certificate and included it among the required documents for his candidacy application in 2015's parliamentary elections.
Okasha was expelled from parliament following a two-thirds majority vote in the House of Representatives on 2 March due to mass disapproval over his unofficial meeting with the Israeli ambassador to Cairo.
Parliament said it holds Okasha accountable for hosting a foreign diplomat and discussing with him matters of national importance – such as the Grand Ethiopian Renaissance Dam issue – which was considered 'unauthorised trespassing' of executive authority and the Ministry of Foreign Affairs.
Local media reports said Saturday that Okasha challenged parliament's decision annulling his membership before the Cassation Court. Daily News Egypt's attempts to contact Okasha's lawyer were unsuccessful.
The court cannot have authority over parliament, according to Ramy Mohsen, a parliamentary affairs researcher and chairman of the National Centre for Research and Consulting (NCRC).
"Parliament is independent and so is its decision," said Mohsen, adding that "this is a futile step undertaken by former MP Okasha".
The meeting with the Israeli ambassador was the latest controversy for Okasha, after he was earlier banned from attending parliamentary sessions for one year due to undisciplined behaviour inside parliament after insulting the parliamentary speaker during the 22 February session.