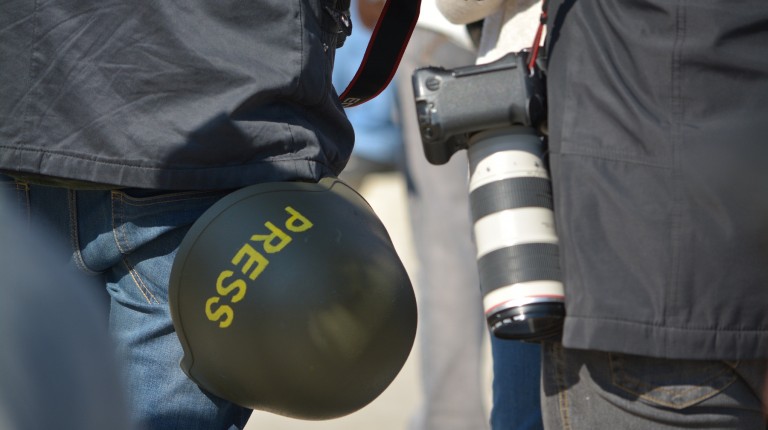 Journalist against Torture Observatory (JATO) documented 32 cases of journalists being prevented from covering events in a report on violations in February.
The report documented and examined12 types of violations against journalists by the government, and Ministries of Interior and Justice in February 2016.
The report highlighted 32 cases of journalists being prevented from covering events and content on their cameras being deleted, which was the highest-occurring violation in February.
The report also observed that six lawsuits were filed against journalists, as well as four cases of verbal harassment, two cases of assaults and imposing fines. Other cases included preventing broadcast and temporary off-air orders, arrests, assault, injures inside detention, and confiscating material to be published.
Thirty-two violations were directed against several Egyptian newspapers and three against state TV channels; however governmental newspapers are rarely subjected to volitions, according to the report.
The report stated that Cairo governorate has the highest incidnece of violations, with 34 cases in February alone; meanwhile there were 12 violations in Giza, three in Alexandria, and one in each of Minya and Damietta.
Last December, JATO reported 34 incidents in which journalists were banned from covering an event or the content of their camera had been deleted.
Journalists in Egypt often face difficulties in carrying out their work due to alleged security measures imposed by police forces.
In January, Al-Bawabh News reporter El Mohamed El-Moardy was released after being detained for nearly three hours, following his arrest while filming police checkpoint operations on Gameat Al-Dowal Street after Friday prayers.
In late February, journalist Sabry Anwar from independent newspaper El-Badil was arrested from his home in Damietta.
Another prominent photojournalist Mahmoud Abu Zaid known as Shawkan was arrested on14 August 2013 while covering the infamous dispersal of the Rabaa Al-Adaweya sit-in. He completed 900 days behind bars on 31 January, despite the maximum period for pre-trial detention being legally set at two years. The photojournalist is currently suffering from poor health inside detention.
Hundreds demonstrated Wednesday in front of the Press Syndicate to demand the release of their fellow journalists and improvement of the poor conditions inside prisons.
Since the ouster of former Islamist president Mohamed Morsi mid-2013, journalists have faced threats while reporting in the field, particularly when covering protests.