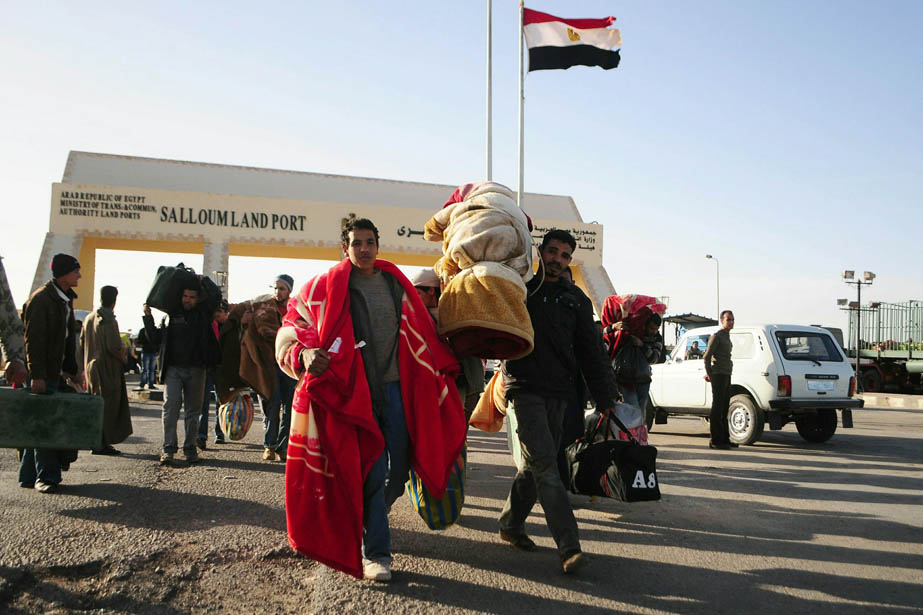 Fifteen Egyptians workers who were allegedly kidnapped by "Islamic State" (IS) forces in Libya were released on Wednesday, according to lawyer Ramy Magdy.
Magdy, whose father was among the missing workers, said: "My father, along with the 14 other Egyptians, were released, following efforts undertaken by the Foreign Ministry that began late Tuesday."
On Tuesday, the Foreign Ministry said the 15 Egyptians were detained in an illegal immigration centre that is subordinate to the Libyan government's authority.
Magdy told Daily News Egypt that the incident dates back to Monday, when his brother, who is also in Libya, informed him that their father and 14 Egyptians workers were kidnapped from their residence by unknown militants.
Magdy added that he immediately began speaking to journalists to highlight the incident, noting that he did not receive a response from the Egyptian Foreign Ministry until Tuesday.
"An official from the Foreign Ministry contacted me on Tuesday and I gave him my brother's phone number in Libya. I was then informed that the Egyptian consul met my brother in Libya," Magdy said
Magdy asserted that his father and the 14 Egyptians are not illegal immigrants, as stated by the Egyptian Foreign Ministry, and that they entered Libya legally to work in the real estate sector.
According to official media statements issued from the Egyptian foreign minister's secretary for immigration and labourers abroad, Hesham Naqib, communications between Egypt and Libya following the allegations that the 15 workers were kidnapped by IS militants concluded that those 15 workers entered Libya illegally.
He said they were arrested and detained in an illegal immigration office inside Libya's capital Tripoli.
Naqib said IS did not kidnap the 15 Egyptian workers as rumoured, noting that IS militants are based 400 km away from Tripoli, where workers were detained.
He further called on Egyptians to respect the Egyptian government's decision to impose a travel warning to Libya on Egyptians.
The Egyptian Foreign Ministry previously issued several warnings to Egyptians against travelling to Libya, particularly after the kidnapping and beheading of 20 Coptic Christian Egyptians in Libya last year.
Several cases have been reported of Egyptians being kidnapped in Libya following the intensification of clashes between the two warring governments in the oil-rich country. The lapse in power structures in Libya has allowed IS to take control of large swathes of land there.