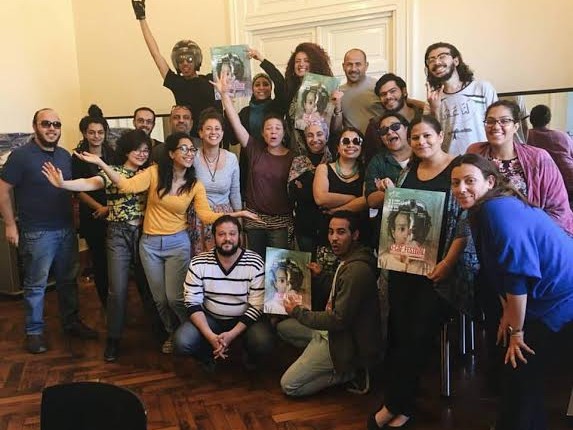 ­In a few days, on 31 March, Cairo will witness a major concert in Horreya Park, where Dina El-Waddidy is set to perform her new album while the Moroccan singer Khansa El-Batma will be performing in Cairo once again.
The opening event is only a glimpse of what Egypt's number one festival, Downtown Contemporary Arts Festival (DCAF), is expected to bring to the area this year. From independent theatre to film, music, dance, concerts, visual art exhibitions, and workshops, Cairo will surely witness three spectacular weeks.
The cultural festival is an annual gathering for art and culture fanatics. As prominent acts and shows travel all the way to Cairo's oldest neighbourhood. Over the past years, DCAF has established itself as the largest independent multi-disciplinary festival of its kind in the region.
Daily News Egypt met Ahmed Al-Attar, the artistic director and curator of the performing arts programme, to go back to how it all started and discuss what is taking place this year.
All great things start with simple ideas. What was the main idea behind DCAF?
I thought that a city like Cairo—with its size, population and history—needs a proper festival and, in my opinion, we did not have one. That was the initial idea and, then, I met Karim Shafei, chairman of Al-Ismaelia for real estate investment, who also had a desire to do something in downtown. We combined our energy and visions to accomplish this.
The idea started in 2010. We were working with the aim of launching the festival in 2011; but, then the revolution took place and we had to postpone the first edition to 2012.
Downtown's cultural scene has always been evident. However, during the past few decades this presence has receded a few times due to the political and economic changes. How did these ups and downs affect your festival and choice of artists?
Downtown in the 40s and 50s had a solid base of theatres and nightclubs. However, I think the revival of downtown culturally started in the late 80s, early 90s, later augmented by the Town House's opening. Downtown has always had a cultural scene, it declined a lot in the 70s and 80s. Nonetheless, even during that period it remained on the front line of Egypt's cultural scene.
For me, the 90s is all about the independent scene, which rose to replace the theatres that were closed at the time. During that period, there was an art festival that went for two or three editions; it was a smaller version of DCAF.
With that said, our choices depend on international artists because it is an international festival. DCAF is neither a local festival nor is it a showcase for Arab or Egyptian artists. The original idea is actually about bringing to Cairo as many international artists and acts as possible. Meanwhile, we leave a space for local and regional acts that are of international standard. Furthermore, we also balance that by hosting the Arab Art Focus programme once every two years.
In the past editions, which show was your personal favourite and why?
Many of them, actually. I like all of the shows and acts that participate in DCAF. I cannot really define one act because I bring and choose acts in whose artistic value I believe. Programming is not about showcasing things based on personal opinion. ON the contrary, it is about picking the things that carry artistic value regardless of my personal preferences.
 What genre of art would you like to add to a future edition?
This season, we are adding literature. We are doing public readings of books selected by local writers. This year, we collaborated with Ahmed El-Aidy, who is going to choose three books in addition to his own book, To Be Abbas El-Abd. We also have a round table with international and local writers on thriller literature, as well as a workshop on adapting literature to film.
This year one of the main acts involves home visits, where people will be hosting the acts in their own houses. How difficult is it to organize such concept?
We are still working on the logistics. However, this year our main focus for the performing arts programme is audience participation. The majority of the shows do not have actors; instead, the audience becomes the performer. Part of that vision is the shows that are set to take place in people's houses. The idea is to break the traditional conceptions of theatre and showcase the multitudes of engagement.
Other forms of art such as film and radio do not engage people; theatre has the capacity to really include the audience, even to the point of making them the main actors.
Over the past five years, how has people's engagement and understanding of the festival changed?
The audience engage with the festival very well; attendance has been rising steadily ever since the first edition. There is a real understanding of DCAF because the audience keeps on growing with each edition. Furthermore, we are not solely bound to downtown's residents; we attract people from all sides of the city and even those who do not live in the capital.
Our strongest point is the fact that we attract people from various demographics, from different classes and age groups.
However, the kind of engagement that we are still looking for is in fact from the state. The government still does not fully support the festival regardless of its exposure, international reputation, and the image it exports about Cairo and Egypt.
We need logistical support from the government. We also need venues that they own. The government can facilitate a lot of things. We bring international artists to Egypt at a time when no one wants to come to this country. International media currently portray Egypt as a conflict-zone with zero security in public spaces. Therefore, when you organise a cultural festival in public spaces you showcase a different aspect of the country and send a clear message.
With that said, this year we finally received our very first official feedback from the minister of tourism. Hopefully that will indicate the start of a better collaboration and more supportive relation.
If you can describe this season in one word, what would it be?
Fantastic.