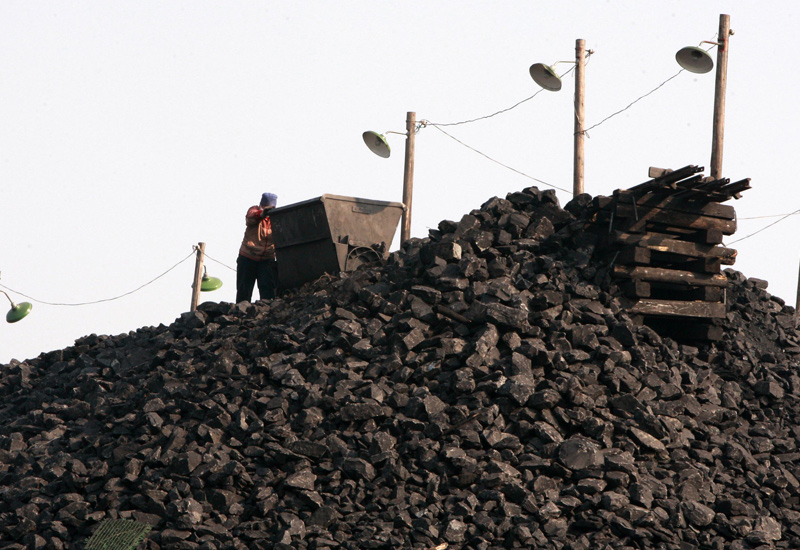 Environment Minister Khaled Fahmy said the use of coal is a political decision that is no longer negotiable, during a workshop on the third national communication report on climate change.
On Monday the ministry released its joint report with the United Nations Development Programme (UNDP) after a five-year delay, due to political turbulence.
The report outlines the current and future effects of climate change in Egypt, highlighting its effect on different sectors such as healthcare and tourism. It also sheds light on statistics related to greenhouse gas emissions in Egypt, such as its triggers and effects, and potential ways to contain them through education and technology.
"The decision to use coal has definitively come into effect with clear decisions and effective regulations," said Fahmy. "It is a political decision that comes from the cabinet, so at the end of the day, as a minister, I can no longer discuss this issue anymore."
Fossil coal is now officially part of the energy mix following the former cabinet's decision under Ibrahim Mehleb in 2015. The use of coal is allocated mainly for cement plants and new power stations, which will be outside the Nile valley.
The ministry's future energy mix includes radical changes. The percent of fossil fuel energy use will decrease from 95% to a maximum of 50%. An increase will be made in renewable energy resources to 30%, nuclear energy to 5%, and coal to 15% at most.
"This means there is a compensation for using coal by increasing renewable energy use," said Fahmy.
Fahmy denounced the limited role non-governmental organisations (NGOs) have taken in climate change efforts. He also criticised members of parliament, adding that Egypt needs legislative tools to begin executing its climate change plan.
Amid the expansion of using coal in Egypt's energy sector, several concerns have been raised by residents living nearby cement plants, as well as NGOs, on the enforcement of its regulations and the potential harm that coal emissions will cause.
However, Fahmy insists that the ministry has obliged cement plants to abide by a strict environmental assessment plan, linked to the approval of their coal use. This plan urges the cement firm not to exceed certain CO2 emissions by using Carbon Credit Cards, or to do planting projects or renewable energy expansion as compensation.
However, Egypt still faces more challenges in terms of climate change effects mitigation, according to head of Environmental Affairs Authority Ahmed Abo Al-Seoud. "We are going through an urgent phase in climate change. The massive population increase affects the use of available resources."
Al-Seoud added: "There are also problems related to databases and available information, which imposes a threat on outlining scenarios for the upcoming phase of mitigation which means there should be increased efforts."
Also attending the workshop was UNDP country director in Egypt Ignacio Artaza, who highlighted the importance of the third communication report. "This report is very special and acts as a valid reference for climate research knowledge and mitigation opportunities," he said.
According to Artaza, the North Coast should be an area of focus in the short term following the significant changes seen recently which caused changes in infrastructure and the loss of lives.
"We are pleased to see the Egypt 2030 development strategy is in line with the Sustainable Development Goals (SDG). We foresee significant progress in this regard," he concluded.
The governmental communication report expects an increase in the number of deaths due to the heat wave, especially among vulnerable demographics, such as children, seniors, and pregnant women.
Meanwhile, climate change is expected to affect the tourism industry which is already in decline since 2011. According to the report, several changes are expected regarding the lives of coral reefs and the atmospheres of tourist resorts, which will in turn decrease their investment value, especially in the Red Sea area.
The report drafted a set of solutions to overcome these threats. The solutions mainly focus on locating the areas most vulnerable to change in order to assess the climate risks.
In mid-December 2015, representatives of nearly 200 countries reached a binding agreement that set ambitious goals to limit temperature rises and to hold governments accountable for reaching those targets.
In addition to the historic, binding agreement, a more ambitious set of pledges were announced by countries during COP21, including a reduction in the rise in atmospheric temperature by a factor of 1.5 degrees Celsius, the review of national strategies every five years, and the reduction of 10 metric tonnes of CO2 emissions worldwide by the end of 2020.
This goal is, according to NGOs, an uphill battle for Egypt. The social cost of using coal was estimated at $16m, in addition to a decline in job opportunities to just 100,000 per year, according to a recent report by the Egyptian Centre for Economic and Social Rights (ECESR).
The controversial decision to start integrating coal in the industrial energy mix followed an acute shortage in natural gas supplies for factories. There was also an amendment in the conduct of the environment law, which allowed for coal imports after it was prohibited.