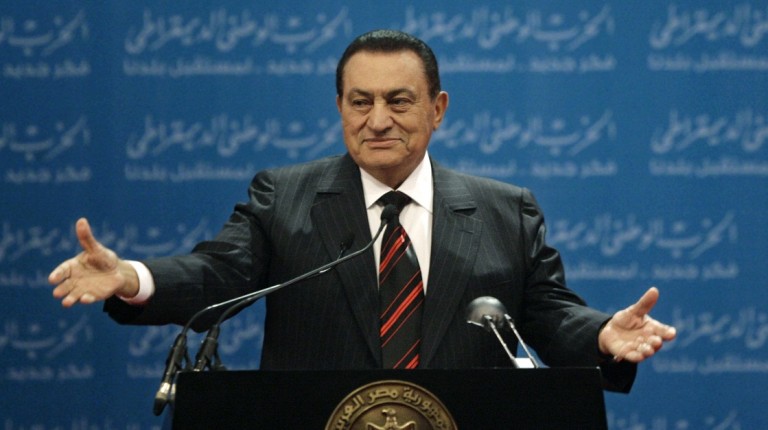 The Court of Cassation adjourned Thursday the trial of former president Hosni Mubarak to 3 November, citing his absence from the court session held at the Supreme Court House, local media reported.
Mubarak faces charges of killing of protesters during the revolution of 25 January 2011.
Supporters of Mubarak gathered at the court Thursday morning, according to state-owned newspaper Al-Ahram, which published pictures of them holding Mubarak posters. Other online local reports said they allegedly destroyed posters reading '25 January' and chanted against the revolution which they called "a conspiracy and a setback".
Mubarak has been unable to attend court sessions at the courthouse located in downtown Cairo, which resulted in repeated adjournments of the trial, allegedly for "security reasons".
A pro-Mubarak campaign called "Sorry President" condemned his prolonged trial, stating that Mubarak is the only remaining defendant in the case for the fifth consecutive year.
Citing the difficulty of properly securing Mubarak's transfer to the Supreme Court House, the campaign demanded instead that the court move its sessions to the Police Academy.
"We don't know the reason behind the rejection or postponement of that demand, and to whose benefit this trial continues, despite other defendants in the case having been acquitted of all charges," the campaign said Thursday on its official Facebook page, adding that it expects another adjournment.
Al-Ahram previously reported that the Cassation Court judge received an official request from the Interior Ministry along with a medical report of Mubarak's condition demanding that the trial be held at the Police Academy, also for health reasons that require the transfer of medical equipment.
However, despite security risks, the court refused, citing court protocol and adding that it would not reverse its decision and requesting the defendant's presence in person.
The Criminal Court had previously ordered the acquittal of Mubarak, his sons Gamal and Alaa, and former minister of interior Habib Al-Adly, along with six of his aides, on charges of killing protesters.
Nonetheless, the Court of Cassation reopened the case last March, hoping to bring murder charges against Mubarak over the 25 January Revolution events. The on-going trial is the last judicial step possible in the case.