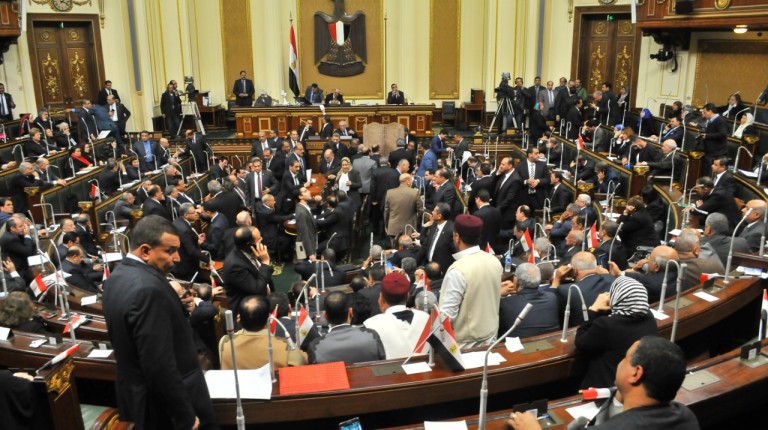 A delegation from the Free Egyptians Party (FEP) met Italian Member of Parliament Fabrizio Cicchitto, president of the Foreign Affairs Committee in parliament, to discuss the Giulio Regeni case.
Party founder Naguib Sawiris, FEP's recently elected president Essam Khalil, and head of FEP's foreign affairs department head Nader El-Sharkawy sought to address the weakening Egyptian-Italian relations, following each party's claims regarding investigations into the murder of the Italian doctoral candidate.
"We realise that the situation is aggravated. The party's initiative is an ethical one, in addition to its political responsibility as one of the largest effective parties, and with the most parliamentary seats," El-Sharkawy told Daily News Egypt Tuesday.
El-Sharwaky expressed his condolences and solidarity with the Italian people, and stressed the atrocity of Regeni's death and the importance of revealing the truth.
"We were well-received and they were very understanding. However, what has added to their frustrated reactions over the past period is that the crime occurred on the soil of a very friendly state," El-Sharkawy explained.
El-Sharkway stated Egypt's management of Regeni's death and the crisis that followed was not carried out well. "Italy is a crucial ally to Egypt on the historical, cultural, political, and economic levels. We cannot allow our relations to deteriorate under any circumstances," El-Sharkawy added.
The Italian national and Cambridge University PhD candidate disappeared in Cairo on 25 January 2016, the fifth anniversary of the 25 January Revolution, which toppled former president Hosni Mubarak in 2011. Regeni was believed to have been last seen at the Behoos metro station located in Dokki, close to Cairo's downtown area, where security forces were known to have an increased presence.
Regeni's corpse was found nine days later, disposed of alongside the Cairo-Alexandria highway desert road. The results of the autopsy conducted in Italy said he had been subjected to severe torture for several days. Regeni's mother Paula stated in a public conference that she recognised her son "only by the tip of his nose".
Italy has since adopted a strict tone demanding Egyptian authorities uncover the perpetrators of the crime, amid internal pressure in Italy imposed by political opposition and public opinion.
Italian foreign minister Paolo Gentiloni addressed the Italian parliament on 5 April, saying that his government is ready to undertake immediate and proportionate measures against Egypt if the Egyptian prosecution does not change its approach to Regeni's case.
The Egyptian prosecution and security forces sent a delegation to Rome on 7 and 8 April to reinvigorate what was perceived by Italy to be a stalled investigation. However, Italian and Egyptian parties emerged from the meeting unsatisfied.
Following the meeting, Italy recalled ambassador to Cairo Maurizio Massari. Massari left Egypt on Sunday morning.
"We were told during our visit that the recalling of the ambassador does not imply that diplomatic ties have been cut. Yet, it aimed at sending a strict message," El-Sharkawy said. He stated that the FEP delegation is trying to alleviate some of the political pressure.
"Let's not forget Italy's political and economic support, including the continuation of flights to Egypt, at critical times for the tourism industry which witnessed several travel bans by foreign countries," El-Sharkawy said.
In an earlier development, Italian Association for Responsible Tourism (AITR) decided to suspend flights to Egypt until the circumstances in Regeni's death are disclosed.