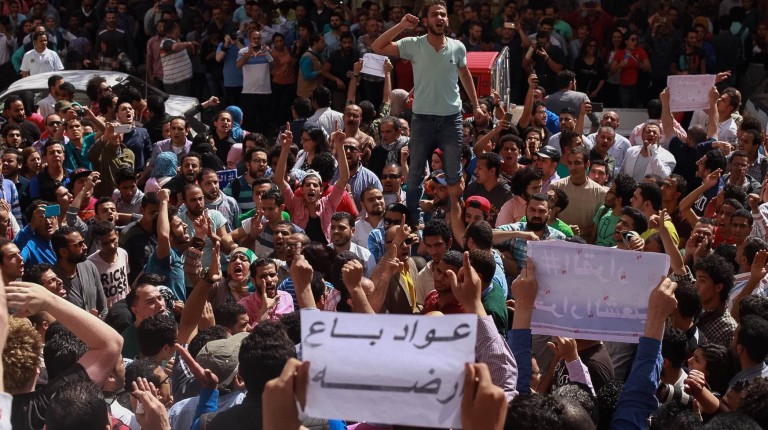 A number of opposition parties and members of parliament continued protesting the sovereignty transfer of the two Red Sea islands, Sanafir and Tiran, following a day of street protests that saw a large turnout and anti-government chants.
The Friday demonstrations in Cairo and other governorates across the country came two days after a speech by President Abdel Fattah Al-Sisi on Wednesday, in which he addressed the mounting discontent over the maritime border demarcation between Egypt and Saudi Arabia. He called on Egyptians, including media outlets, to not to discuss the case again. His remarks came after calls for protests were made, and only added to the overwhelming sentiment leading protesters to take the streets.
In his speech, Al-Sisi argued that "the whole matter is now in the hands of the parliament, which will in turn discuss the agreement and has the freedom to approve or refuse it", an argument the leftist MP Haitham El-Hariri nullified on Saturday by admitting that the parliament does not really represent "the will of the people".
"Public pressure is the only way to safeguard our rights in all issues: bread, freedom, human dignity, social justice, and national independence," El-Hariri stated.
During Friday's protests, more than 250 protesters reportedly arrested nationwide, according to local NGO Democracy Index. In downtown Cairo, approximately 100 were arrested and released shortly afterwards, while 26 were referred to the prosecution unit in Qasr Al-Nil, according to Al-Haqanya Law Centre. No casualties were reported, but some activists reported minor injuries as a result of teargas used by riot police.
The intensity of the protests, considered the largest non-Islamist protest to call for Al-Sisi's removal, prompted statements from the Egyptian Social Democratic Party (ESDP) and the Socialist Popular Alliance Party (SPAP) praising the protests and condemning the government and the president for their stance on the islands issue.
Other parties, such as Al-Dostour and Misr Al-Qawiya, issued statements prior to the protests supporting them and providing "political support" for the demonstrators.