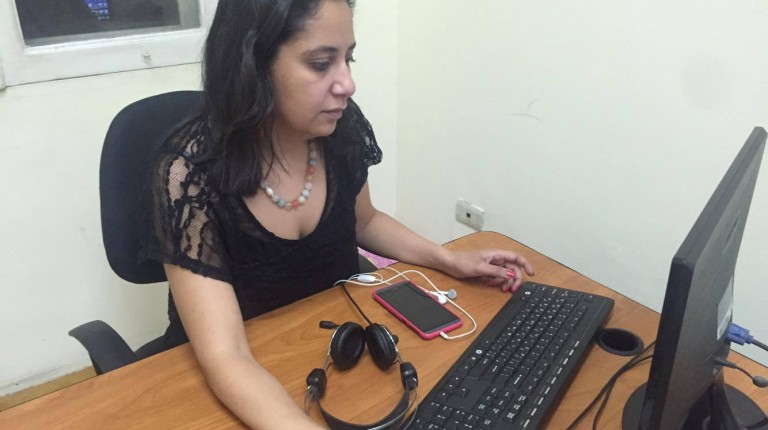 In recent months, harsh measures have been taken against a number non-governmental organisations (NGOs), from the order to close El Nadeem Centre for Rehabilitation of Victims of Violence to the reopening of the "NGOs' foreign funding" case in early March.
Mozn Hassan, the head of Nazra for Feminist Studies, has found herself at the centre of this battle. Hassan and three Nazra staff members received a summons for investigation in the "NGOs' foreign funding" case. The case has also summoned lawyer and ANHRI head Gamal Eid and journalist Hossam Bahgat along with several other human rights and civil society advocates.
The summoning of Hassan, however, is seen as a blow to the feminist movement in Egypt.
According to its mission, Nazra aims to bolster the feminist movement in the Middle East and North Africa by putting issues related to women at the forefront of politics and society.
While the reasons behind why Nazra and Hassan were targeted in the case remain vague to many, a lot of questions remain on what the repercussion of the move will be for the feminist movement in the region.
Daily News Egypt interviewed Hassan about Nazra's involvement in the case, its relation to feminism, and whether Egyptian society welcomes feminism. Hassan also touched on the current status of civil society in Egypt and her expectations of the NGO draft law.
Despite being accused in the case, Hassan said she and her staff have agreed to continue their work, but are aware that at anytime they may receive an arrest warrant.
Although she lauded Egyptian civil society as one of the strongest in the Arab world, referring to its strong history of advocacy, Hassan disagreed with the way the feminist movement is portrayed. The issue has come to be viewed as charity, rather than important political and social issues, according to Hassan.
"I want to know what harm do women's rights represent to people?" asked Hassan. "How did a political issue such as this, which supposedly concerns society, come to be treated as charity work?"
Hassan believes feminist organisations are not reflected properly in society and their work is taken for granted.
"They [the state and society] portray feminism as something 'cute'. The feminist movement is not cute, it is a huge issue," said Hassan. "The systematic documentation of violations against women include domestic violence and sexual violence … [these issues] can never be dressed up as 'cute'," said Hassan.
Hassan stressed that the significance of women's rights are critical to society's development, even though people continue to underestimate issues that relate to women.
"As a feminist organisation, we are documenting and treating victims," said Hassan. "Our role is not to answer why society rejects or neglects our work. I don't know why human rights and feminist movements are perceived as annoying to some."
While the government continues to publically support women's rights and issues, restrictions on feminist organisations seem to hint at a separate agenda.
"It is part of their contradiction, as they also speak about their support for human rights and religious discourse, however they imprison people for speaking freely," Hassan said.  
A new draft law that would govern NGOs has come under scrutiny by some human rights activists, although it has not yet been made fully public, for its alleged harsh governing of civil society organisations. Hassan expressed her dismay at the draft law, wondering how a civil society can work and prosper under "such a repressive law".
There must be transparency in the ministry's discussions on the new draft law and it should engage civil society members in their discussions, said Hassan.
"The draft law should be made public to all people, not just members of NGOs," said Hassan. "I don't expect the new draft law will grant us better work conditions, and unfortunately all messages are confirming my assumptions."
In a similar context, Hassan spoke about the ministry's lack of cooperation with NGOs, as it regularly hinders and rejects their projects. She contended that the state and ministry's concerns are not with civil society as a whole but rather with advocacy NGOs.
The state demeans civil society as only charity organisations, said Hassan.