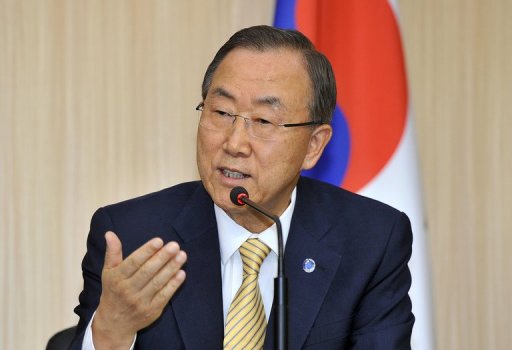 The Egyptian Foreign Ministry condemned UN secretary-general Ban Ki-moon's statements on the foreign funding case filed against a number of NGOs in Egypt.
Foreign Ministry spokesperson Ahmed Abou Zaid said Egypt rejects any foreign statements interfering in the work of the Egyptian judicial system, stating that the UN secretary-general's statements could impact the expected ruling on Wednesday, or constitute intimidation to the judicial system.
He described the statement as "inconsistent with the authorities and responsibilities of the entity issued by it and contradictory to its continuous claims about respecting the state of law and independence of the judiciary".
The secretary-general's spokesperson had issued a statement on Tuesday, indicating that Ban is following the NGOs' case in Egypt closely. The UN statement urged for the defendants in the case to benefit from the legal procedures and international standards to face fair trails.
The Foreign Ministry rejected this inclusion, saying: "It is unacceptable for the statement to include overtones that the defendants may not be granted their right to benefit from the procedures and criteria for fair litigation."
The secretary-general further stated that the Egyptian government has "accepted a number of recommendations under the second Universal Periodic Review cycle to promote and protect the rights to freedom of association". Moreover, the statement said Egypt is formulating a new NGOs draft law in accordance to the constitution and international human rights regulations.
The Foreign Ministry commented on this, saying: "The statement did not add anything that deserves comment." Abou Zaid further confirmed that Egyptian government is already committed to the stipulations of the Egyptian Constitution.
According to the UN statement, Ban highlighted the significant role of civil society in achieving developmental, social and civic goals, as well as the role of human rights defenders in the state. He also called for easing restrictions on the media.
In March, a case from 2011, which was levelled against 109 NGOs accusing them of receiving foreign funding, was reopened.
The case dates back to December 2011, when prosecutors, backed by the police, stormed the offices of 17 local and international NGOs, including the International Republican Institute, the National Democratic Institute, and Freedom House, as part of a probe into the NGOs' allegedly illegal foreign funding.
The reopened case includes four defendants, including activist Gamal Eid, who is the executive director of the Arabic Network for Human Rights, and journalist and rights activist Hossam Bahgat, who is the founder of the Egyptian Initiative for Personal Rights.