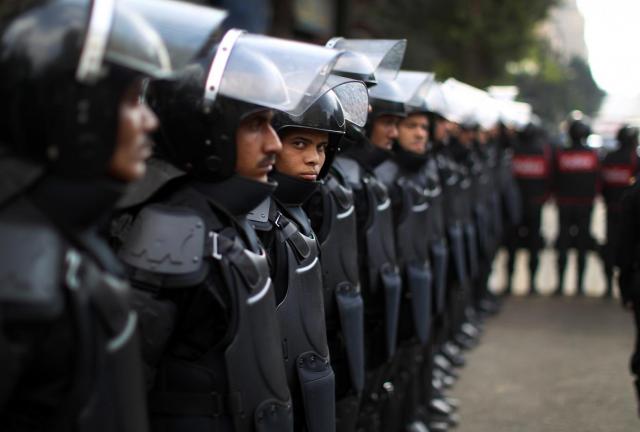 Ahead of anticipated protests on Monday, security forces have locked down the main locations which were announced to host protests in Cairo just hours before demonstrations were set to begin.
Central Security Forces (CSF) personnel, armoured vehicles and police personnel have cordoned off the headquarters of the press and doctors syndicates, blocking movement in front of the two buildings in downtown Cairo. Police officers are out in full force throughout metro stations across the capital. Sadat station has been closed once again due to its location at Tahrir square.
Security measures were less pronounced outside the Behouth metro station in Dokki, which was announced as a gathering point for protests. A sole CSF vehicle was seen in the third location announced by factions that called for protests.
A number of secular parties grouped under the Democratic Current, along with several civil forces that previously called for protests on 15 April, reiterated their calls for protests on Monday, which coincides with Sinai Liberation Day.
The protests come in objection to the signing of a recent maritime borders' demarcation agreement between Egypt and Saudi Arabia, which will see two Red Sea islands transferred to Saudi sovereignty.
Minister of Interior Magdy Abdel Ghaffar held a meeting with ministry's top officials on Saturday to review security preparations for the possibility of "legal violations" on Monday, according to an official ministry statement.
Abdel Ghaffar did not directly refer to the calls for protests during the meeting. However, he did refer to the presence of legal channels, such as the parliament, which monitor the government's performance.
Amid a four-day security crackdown on political activists, journalists and lawyers and an unexpected turnout for the 15 April protests, an unprecedented momentum has gathered for non-Islamist factions opposing the government.
Meanwhile, there have been repeated statements by state officials warning inexplicitly against taking the streets.
One day before the protests, in a speech commemorating Sinai Liberation Day, President Abdel Fattah Al-Sisi affirmed that government and Egyptians will "not allow" any attempts to threaten Egypt's security or create chaos by "destroying state institutions".