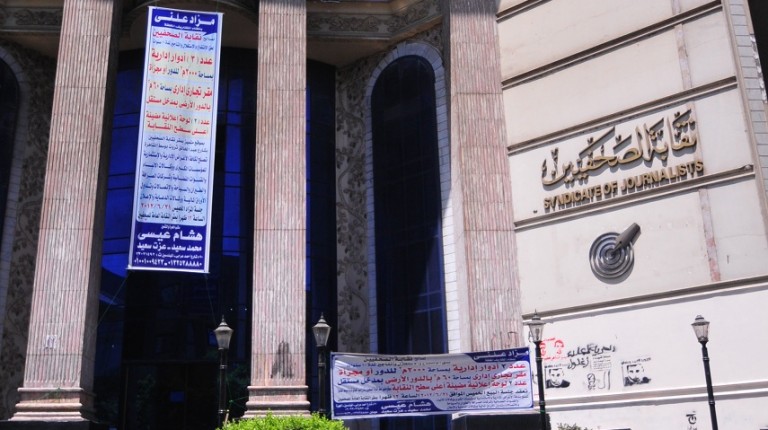 Germany's Ambassador to Egypt Julius Georg said on Wednesday he was "astonished" by Egyptian security's storming of the Press Syndicate, emphasizing the necessity of press freedom in order to achieve democracy.
The ambassador's statements came during a press conference that announced the results of recent visits by German officials to Egypt, including a visit by the German Interior Minister Thomas de Maizière and Vice-Chancellor Sigmar Gabriel.
"During all visits from German delegations to Egypt, the human rights issue was a main subject discussed as violations committed against human rights will negatively affect investments and stability in Egypt," said Georg.
Georg discussed a number of issues related to relations between Germany and Egypt, among them security concerns, human rights, and diplomatic relations.
"Germany is cooperating with Egypt in different areas on the top of them is security as Germany stated before that we will support Egypt in securing borders with Libya and inside the Sinai peninsula to curb the flow of arms and terrorists," said the ambassador.
Germany will also provide two naval submarines to Egypt, although the date of delivery has yet to be announced.
Despite restrictions imposed on the international sale of weapons for nearly 15 years to enhance peace worldwide, Germany became the world's fourth-largest arms exporter in 2015, according to the latest German arms exports report.
Georg also discussed issues related to democracy, including the presence of non-governmental organizations (NGOs), which have come under fire recently due to the reopening of the "NGOs' foreign funding" case.
"The existence of NGO's in Egypt is necessary to enhance democracy and to reflect the real problems of society to decision makers. German officials are keen in any visit to a foreign country to meet NGO representatives to keep in touch with societies," he said.
The ambassador explained that it is wrong that relations between countries are limited to diplomatic communications between governmental institutions and that it should extends to NGOs.
In March, the German government expressed its concern about the "repression" of human rights organizations following the recently reopened investigation into the NGOs' foreign funding case. The case has brought a number of human rights defenders in front of the prosecution, including journalist Hossam Bahgat and human rights lawyer Gamal Eid.
On Monday, the Head of German Internal Intelligence Hans-Georg Maassen stated in press statements that round 90 mosque communities in Germany are under surveillance and many of them are predominantly Arabic speaking. The surveillance has been put in place in order to confront any potential threat from the Islamic State.
"Germany is respecting all kinds of freedoms, including religious freedom, but this freedom reaches its end when the matter is related to calling for violence. Recently, there were a number of mosques that incited against democracy and called for violence, so action was needed," said the ambassador, commenting on the surveillance on mosques.
Germany is currently considering whether the Muslim Brotherhood should be monitored as a group that includes extremists, despite the presence of moderate members. "Generalisation is difficult" as it is hard to say that every member of the Brotherhood is a terrorist, said the ambassador.
Regarding the expected visit from German Chancellor Angela Merkel to Egypt, he noted that an official invitation from the Egyptian presidency has been sent to Merkel and now is currently being discussed.
On the possibility of German military interference in Libya, he asserted that Germany will not interfere in Libya's internal conflict as it is a matter that should be settled by the Libyan government. He asserted that Germany is providing all necessary support.
Georg added that German tourism to Egypt was been negatively affected by the Russian plane crash in 2015, asserting that the rate of German tourists was nearly 1m prior to the incident, but he expects 2016 will witness a much smaller number.