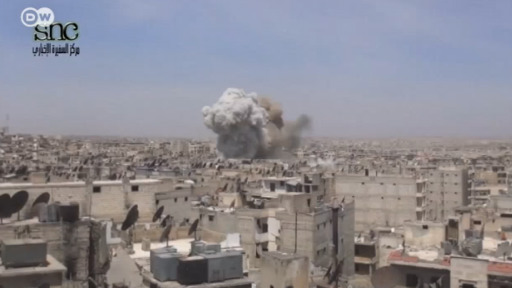 US officials have announced the extension of a truce to Syria's war-torn northern city. Officials at the United Nations, meanwhile, have accused the Assad regime of war crimes.
The US State Department announced on Wednesday it had reached an agreement with Russia to expand the shaky ceasefire in Syria to the contested city of Aleppo.
Officials said there was an "overall decrease in violence" in the city once the cessation of hostilities went into effect, just after midnight local time on Wednesday.
In a statement to the press, Secretary of State John Kerry called on all sides of the conflict to honor the agreement.
"We expect all the parties to the cessation of hostilities to fully abide by the renewed cessation in Aleppo," Kerry said. "That means the regime and the opposition alike."
Federica Mogherini, the EU's foreign affairs chief, who met with Kerry in Washington on Wednesday, said the US-Russia agreement was "vital" to bringing an end to the Syrian conflict, although it wasn't immediately clear if or for how long the ceasefire would be observed.
Sporadic fighting was reported on Wednesday, and Kurdish fighters said a Kurdish district of Aleppo had been attacked by government forces on Wednesday evening.
Accusations of war crimes
Also Wednesday, two top UN officials met with the UN Security Council to urge for the Syrian government to be tried for war crimes.
Political affairs official Jeffrey Feltman and humanitarian aid chief Stephen O'Brien told the 15-member council that the forces under President Bashar al-Assad are responsible for attacks on hospitals and starvation sieges, crimes that violate the international rules of war.
"Those responsible for war crimes must be held to account," Feltman said, arguing government officials should face trial in The Hague.
At least 253 civilians, including nearly 50 children, have been killed in Aleppo since renewed fighting on April 22. The Syrian Observatory for Human Rights has accused Assad of dropping barrel bombs and blocking civilians' route out of the city.
blc/cmk (AP, dpa, AFP)