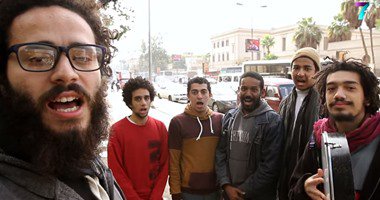 Security forces arrested the remaining members of the local street band "Street Children" on Monday, according to their lawyer Mahmoud Osman.
Ezz El-Din Khaled, one of the band members, was previously arrested on Sunday on charges of inciting protests and publishing inappropriate videos online. After spending a day in detention, Khaled was released on EGP 10,000 bail.
The prosecution, however, appealed the decision and scheduled a session for Tuesday to examine the reason behind his release.
Osman said the recently arrested band members face similar charges as Khaled. They were detained at the Sayeda Zeinab police station and then referred to the Heliopolis prosecution for investigations on Tuesday.
"Street Children" gained fame online for its satirical videos posted on Facebook about ongoing political events and leaders, namely President Abdel Fattah Al-Sisi.
Khaled's arrest stirred anger on social media, particularly among young people, who contested that sarcasm is not a crime.
In one of their latest videos, published on 3 May—four days prior to Khaled's arrest—the band criticised the increasing number of arrests and Al-Sisi supporters. They also confronted the alleged accusations of belonging to the Muslim Brotherhood and receiving foreign funding.