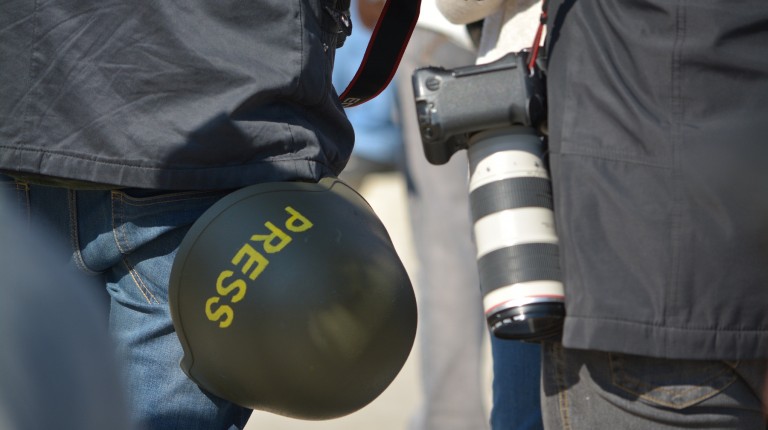 The Press Syndicate welcomed on Tuesday the unified press and media law approved by the cabinet on Monday, which is currently awaiting parliament's approval.
The syndicate's praising statement comes amid board members' efforts to establish positive ties with state institutions to safeguard the future of press freedom after condemning an increased security crackdown on the media and the 1 May police raid on the syndicate.
The cabinet's approval of the law comes after months of back and forth dialogue between the government and members of the media and press community, who expected "a long battle" regarding suggested articles that dealt with cancelling imprisonment.
The new law would theoretically support press freedom, according to the syndicate, bringing forth a solution to the majorly debated issue of journalists' imprisonment for publishing crimes by not including such a penalty.
It states that no detention or bail for release should be applied to journalism and media professionals for alleged crimes related to publishing, or any other activity related to their jobs.
The new law includes a removing systemic pressure on journalists to reveal their sources, or search their houses in crimes related to publishing. It also prohibits restrictions on access to information, ensures the right to attend public conferences, interview citizens, and photograph in unrestricted zones—such as military areas.
The syndicate's approval of the law stems from the participation of its members and other media experts with the government in drafting and reviewing the law. According to the syndicate, Speaker of the House Ali Abdul Aal was also among the participants.
"The law reinforces the principles adopted in the constitution regarding the non-censorship of the press and media and the prohibiting of imprisonment penalties in publishing cases," the syndicate's statement read.
Article 71 of the Constitution stipulates that no censorship, confiscation, suspension, or shut down of newspapers and media outlets should occur under any circumstances, with the exception of unusual situations of war and general mobilisation.
The constitutional article further prohibited freedom restricting penalties "imposed for publication or publicity crimes", while laws shall regulate the penalisation of "crimes related to the incitement of violence, discrimination between citizens, or impingement of individual honour".
The law-to-be includes several articles protecting the rights of journalists and media workers, such as jail and fine penalties for those charged with assaulting or insulting them due to their work.
It also includes an imprisonment punishment and a bail of at least EGP 1m and up to EGP 3m on anyone who intentionally obstructs or disrupts any broadcasting station.
When the first drafts of the law appeared, concerns emerged as to whether this law would be enough prevent the imprisonment of journalists in publishing crimes, for there are other legal texts in the Penal Code that relate to criticising public officials.
However, the new law stated that it would be the ruling ground and that other contradicting laws shall not be effective once the new law is passed.