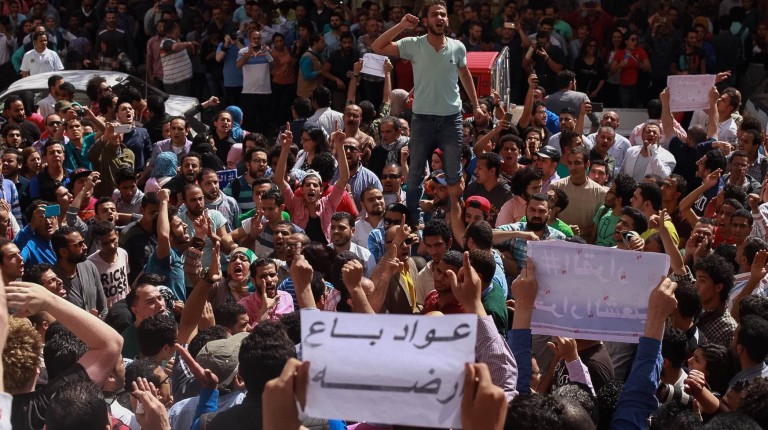 The "Egypt is not for sale" campaign launched by the Democratic Alliance party announced on Tuesday evening a symbolic open-ended sit-in inside Al-Karama party headquarters.
The sit-in was decided during a conference on Tuesday evening hosted by political parties' representatives to demand the maritime demarcation deal be abolished and the immediate release of islands protest detainees.
The spokesperson of the Democratic Alliance party Khaled Dawood told Daily News Egypt, that the conference was held to discuss further steps or plans to pressure the state to cancel the islands agreement, which would see the transfer of Tiran and Sanfir islands' sovereignty to Saudi Arabia, and to demand the release of all detainees arrested for protesting against the islands agreement, especially those who received harsh prison sentences ranging from two to five years with fines.
Additionally, the conference addressed and discussed other prominent issues including the security crackdown, prisoners deteriorated conditions inside police stations and prison cells, and the political current situation, Dawood added.
Political parties that are participating in the Democratic Alliance party sit-in, include Al-Dostour party, the Socialist Popular Alliance party, and Misr Al-Hurreya party.
One of the prominent political figures who joined the sit-in was the former presidential candidate Hamdeen Sabahy. His participation was met by wide-spread criticism from media figures including Ahmed Moussa and Tamer Amin who contended that Sabahy is aiming for a "media show". They further criticised the sit-in idea.
Sabahy announced his solidarity with the sit-in demands, and that he will send a delegation to parliament to demand the Protest Law be amended and all prisoners released.
Daily News Egypt visited Al-Karama headquarters and found only few groups present. When asked about the rest, one attendee, who requested to remain anonymous, said that the sit-in is symbolic so people are not required to stay; they can leave to finish their work and return at night. Sabahy was also present, but unavailable for comment.
Dawood commented on the criticism, saying that no one is seeking a "media show" but the sit-in does need coverage and attention as the event is facing a media blackout from critics, except if police officers are hosted on shows to attack them or to receive televised phone calls of people insulting them.
Those in the sit-in are not causing any harm or serving any political interest, they are only defending a national issue which is that they will never accept waiving part of their land, Dawood explained.
Furthermore, during the conference, the lawyer Ragia Omran who was one of conference hosts revealed in her speech that there were 1,317 cases of people being stopped in streets and arrested from just 15 April to 10 May. Some groups released while others were sentenced to imprisonment, she said.
Prisons regulations must be regulated and activated to improve the poor conditions of all prisoners, not just political detainees, Omran said.
The conference came following the administrative court session on Tuesday morning to rule a lawsuit filed by lawyers Khalid Ali and Tarek Al-Awady, as well as the now jailed Malek Adly to abolish the Egyptian–Saudi maritime demarcation agreement.
The court session was adjourned to 7 June until the government presents documentation and maps of the agreement.
The islands transfer to Saudi proved to be hugely controversial among intellectuals, public figures, social media users and activists, as well as both anti-government and pro-government citizens.
Several protests were organised across the nation by people from various social classes calling on the state to abolish the agreement saying that "the regime sold our land", and "the islands are Egyptian". The protests were followed by numerous arrests of people demonstrating as well as arbitrary arrests of bystanders on the street and in coffee shops. Some people were arrested from their homes in a wide-spread security sweep in advance of the protests.