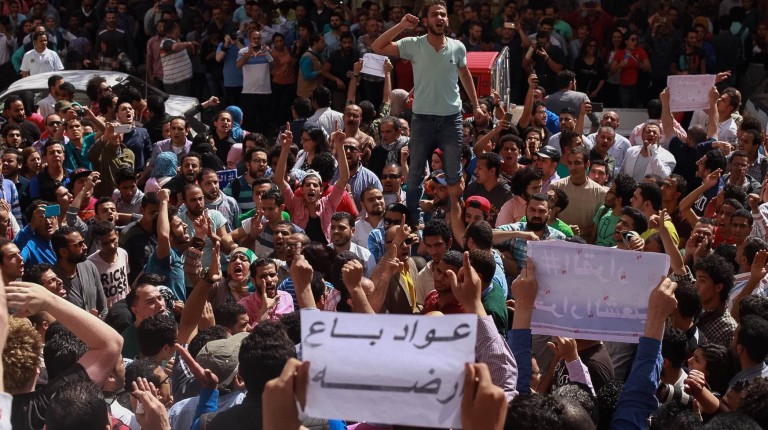 Several political parties began a week-long sit-in on Sunday in the Socialist Popular Alliance party (SPAP) headquarters against the maritime demarcation deal between Egypt and Saudi Arabia.
A one day symbolic sit-in was organised last Tuesday following a press conference hosted by representatives of political parties to demand the islands deal be abolished and the immediate release of those detained during protests on 15 April and 25 April.
The first day of the sit-in opened with a seminar discussing the conditions of freedom of opinion and expression in the country. Several meetings were held with lawyers of 25 April protest defendants in order to address their clients' conditions inside prison cells.
The acting head of SPAP Medhat Al-Zahed told Daily News Egypt that the political parties planned various events and discussions this week, in order to find ways or suggestions to help address the issue.
According to the sit-in programme, on Monday evening a session will be held to discuss historical facts and evidence of Egypt's ownership of Tiran and Sanafir islands, along with other talks on Palestine. On Tuesday at noon, a press conference will be held to discuss possible plans to connect with the government and follow up on a lawsuit filed against the deal.
On the opening day, political figures, including former presidential candidate Hamdeen Sabahy, expressed their solidarity with the 25 April protesters and the deteriorated conditions inside detention.
Other prominent political parties' members joined Al-Zahad and Sabahy, such as Khaled Dawood from Al-Dostour, Al-Karama party's secretary general Mohamed Bassuiony, and Al-Karama party leader Massoum Marzouk.
Last week, a conference addressed and discussed other prominent issues including the security crackdown, prisoners deteriorated conditions inside police stations and prison cells, and the current political situation.
The islands transfer to Saudi Arabia proved to be hugely controversial among intellectuals, public figures, social media users and activists, as well as both anti-government and pro-government citizens.
Several protests were organised across the nation by people from various social classes calling on the state to abolish the agreement saying that "the regime sold our land" and "the islands are Egyptian". The protests were followed by numerous arrests of people demonstrating as well as arbitrary arrests of bystanders on the street and in coffee shops.