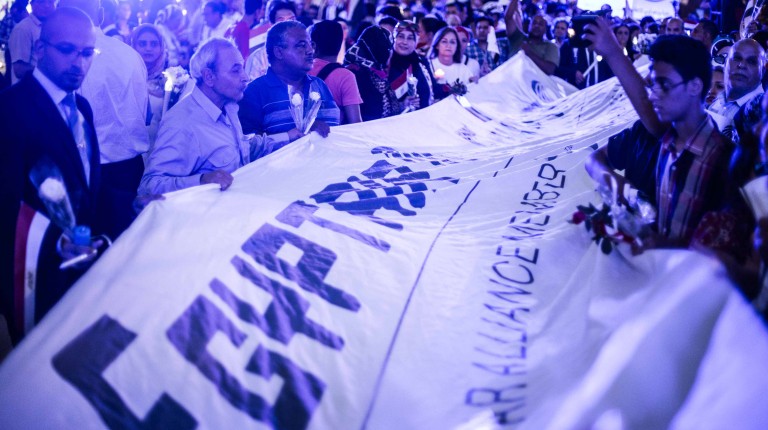 The investigation committee of the crashed EgyptAir MS804 aeroplane received a satellite report showing that an electronic message was sent from the aeroplane's Emergency Locator Transmitter (ELT), which sends an automated message in case of a crash or if the aeroplane becomes submerged in water.
The committee presented the coordinates of the message to the search teams so that they can search the area from where the message was sent.
The committee also received information from Greek authorities regarding the aeroplane, but the information warrants further study, according to a statement released by the Ministry of Civil Aviation on Saturday.
The Ministry of Civil Aviation signed a memorandum of understanding (MOU) on Thursday with the company Deep Ocean Search (DOS) to perform the search and retrieval process of the two data recorders of the crashed EgyptAir aeroplane, which went down in the Mediterranean.
DOS is an international company that provides assistance in ultra-deep water activities and uses advanced technology, which will assist in locating the black box.
A French naval vessel is participating in the hunt for the black box. Laplace left the French port of Corsica and headed to the crash site equipped with devices from ALSEAMAR company, which specialises in identifying wrecks.
EgyptAir flight MS804 crashed into the Mediterranean Sea during the early hours of Thursday morning, claiming the lives of all 66 people onboard.
The investigation committee has started studying the information received from the Greek air traffic control about the accident. It is expected that the committee will receive more information about the radar records that had followed the path of the aeroplane before the accident, according to an official statement released by the Ministry of Civil Aviation.
In a similar effort by Egypt to locate the black box, the government will import a special device to detect the box's signals from Ocean Sonics, a government source told Daily News Egypt.
Ocean Sonics is a Brazilian company that designs and manufactures digital hydrophones.
Experts have only 30 days to find the black box before its battery dies, thus preventing it from emitting signals.