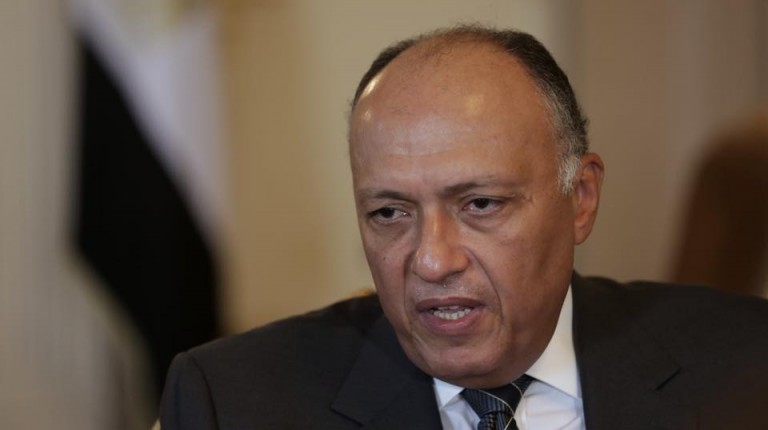 Egypt is making efforts to revive the peace talks between the Palestinians and Israelis to "end this conflict and establish a Palestinian state", Egyptian Foreign Minister Sameh Shoukry said on Monday.
President Abdel Fattah Al-Sisi called on both sides to positively engage in a peace process that will help stabilise the region, Shoukry said during an interview with the BBC.
Earlier this month, Al-Sisi said that solving the Palestinian-Israeli conflict will make the peace treaty between Egypt and Israel "warmer", adding that Egypt is ready to mediate to end the conflict.
He also urged Israelis to not waste an opportunity for peace.
The new Israeli defence minister, Avigdor Lieberman, told a local radio station in Israel shortly after he was sworn-in that the Egyptian president's declarations are very important and "create a real opportunity for peace which should not be wasted by Israel".
An international peace conference is supposed to take place in Paris on 3 June, a move that was welcomed by the Palestinians and opposed by the Israelis.
Israeli prime minister Benjamin Netanyahu commented on the initiative saying that the only way to progress is to conduct direct negotiations with the Palestinians.
On Monday, Netanyahu pointed to the ability to discuss the Arab initiative for peace which was introduced in 2002 and includes diplomatic recognition of Israel by Arab countries in return for establishing a Palestinian state.
"The Arab peace initiative includes positive elements that can help revive constructive negotiations with the Palestinians," Netanyahu said.
"We are willing to negotiate with Arab states' revisions to that initiative so that it reflects the dramatic changes in the region since 2002 but maintains the agreed goal of two states for two peoples," he added.
Arab ministries of foreign affairs supported the French initiative to revive the peace talks between Palestine and Israel during their unusual meeting in Cairo on Saturday and have urged for an established timeframe for the talks.
Palestinian president Mahmoud Abbas said that Palestine will participate in the international peace conference if it aims to achieve the vision of the two states.
Abbas added that the negotiation should have a known timeframe.
Arab League Secretary General Nabil Al-Araby said the aim is not to bring the two parties together but rather to identify a timeframe and techniques to impose what they will agree on.
Egypt will participate in the Paris conference, said Shoukry.
"We hope that the conference will revive the first steps in the negotiations track between Palestine and Israel," Shoukry added.
Earlier this year, the French government began efforts to host an international conference planned for this summer to restore peace talks between Palestinian and Israeli authorities. It also vowed to recognise a Palestinian state if peace talks failed.
Peace talks stalled following the collapse of a US-led initiative two years ago.