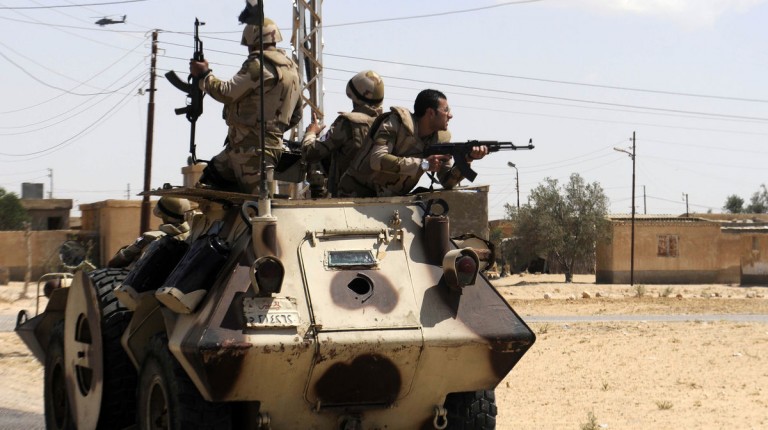 A militant suspected of being affiliated with Islamic State (IS) was killed and another injured when the Egyptian Armed Forces thwarted the planting of an improvised explosive device (IED) in Rafah, North Sinai governorate.
"The Armed Forces in North Sinai succeeded in foiling an attempt to attack security forces in North Sinai. A security patrol monitored two takfiriyeen trying to sneak into a house near the main road to plant an IED near Rafah International Road in order to target forces," the army said on Saturday.
When the patrol entered the house, an exchange of fire with the suspects resulted in the killing of one and the injuring of another. Two guns and other military equipment were confiscated.
Statements published by the Egyptian Armed Forces often refer to militants as takfiri, or one who claims to be a Muslim but is impure, in order to disassociate these attacks from IS and delegitimise any organised terrorist movement.
Recently, six police conscripts were killed and six others injured in Qabr Omeir village near Sheikh Zuweid, according to North Sinai-based sources who previously spoke to Daily News Egypt on condition of anonymity.
The attack targeted a military checkpoint in the village. It was executed by militants who are believed to be members of "Sinai Province", the sources clarified.
Despite reluctant announcements from the Armed Forces regarding liquidation operations against "Sinai Province" militants, which resulted in killing hundreds of them, clashes between state security forces and this group are ongoing in North Sinai governorate. Attacks against military forces are happening on an almost daily basis and are usually centralised in the cities of Rafah, Sheikh Zuweid, and Al-Arish.
The Egyptian Armed Forces are currently continuing the third stage of Operation Martyr's Right. It recently resulted in killing 22 militants that were killed over the past two days, according to the army's spokesperson.
North Sinai has been under a state of emergency since the term of interim president Adly Mansour, who came into office following Mohammed Morsi.
The state of emergency was last extended in January 2016; it was officially approved in May by parliament to be extended for an additional three months, one day after a delegation of parliament members met with Minister of Defence Sedki Sobhi.