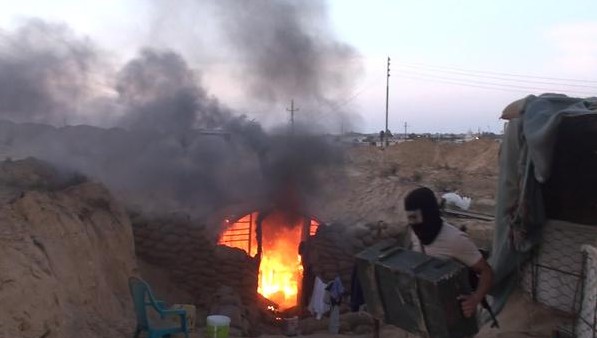 A police conscript was shot dead on Monday morning by militants believed to be members of Islamic State-affiliated group "Sinai Province" in southern Rafah.
The conscript was a member of the Sadwet checkpoint security force, Rafah residents told Daily News Egypt on condition of anonymity.
On Sunday evening, "Sinai Province" claimed responsibility for destroying a M113 tank and then clashing with the officers and conscripts who were inside it and the accompanying army platoon, according to a statement issued by the group's media office.
"Thanks to Allah, Caliphate soldiers were able to target the platoon affiliated to apostate Egyptian Armed Forces on the Al-Arish-Rafah International Road. The attack resulted in the destruction of a M113 tank by an improvised explosive device (IED). Following the explosion, clashes erupted between Caliphate soldiers, and conscripts from the platoon. These clashes resulted in the death and injury of several army members," the statement read.
The statement added that, besides attacking the tank, the militants managed to foil another platoon's mission to storm a faction of "Sinai Province" in Sheikh Zuweid using armoured vehicles. The Armed Forces were met by tough resistance and their mission failed.
On Monday morning, two students who live in Sheikh Zuweid and Rafah were stopped by police officers at a checkpoint on suspicion of being affiliated to IS. They were released after being detained that day while they were on their way to the Faculty of Education in Al-Arish to take exams.
"Residents of Sheikh Zuweid and Rafah are continually subjected to detention at state security checkpoints across North Sinai governorate on suspicion of being affiliated to IS. This has been happening since the beginning of military operations in North Sinai," said a resident on condition of anonymity.
Abdel Rahman Al-Ramylat and Tarek Al-Swarka were released from Al-Arish First District Police Station after being detained briefly so they could attend their exams, residents added.
Several arbitrary detentions and abuses of power have purportedly occurred at state security checkpoints, as reported by a number of Sinai-based social media outlets.
Residents from Sheikh Zuweid previously told Daily News Egypt, on condition of anonymity, that they are treated strictly on suspicion of being terrorists or IS operatives when passing any state security checkpoint. They claim they are put through demeaning inspections and searches that have caused outrage among residents, especially the inspections of women.
Clashes between state security forces and Sinai Province militants have intensified recently as security forces continue the Martyr's Right operation. IEDs are being detonated nearby checkpoints and armoured vehicles on a near daily basis.
Militants are mainly based in Sheikh Zuweid, Rafah, and Al Arish where residents have long complained about the infrastructure and services provided by the government, as well as the absence of vital services such as health care and proper education.