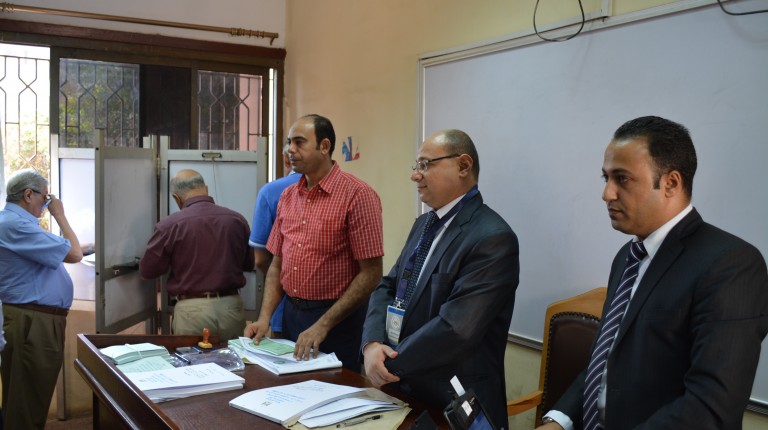 Sweden's National Day on 6 June is celebrated in honour of two historical events. On 6 June 1523, Gustav Vasa was elected king, and on the same date in 1809, the country adopted a new constitution.
In Cairo, the National Day celebration is an annual event organised by the Embassy of Sweden to celebrate with Egyptians the vibrant relations between both countries.
The Embassy of Sweden in Cairo celebrated the National Day of Sweden on 31 May with an event that exhibited areas of Sweden's engagement around the globe, with more than 1,000 attendees ranging from officials to businesspersons, students, and representatives of civil society, cultural institutions, and the media.
As part of presenting Sweden's candidature for a non-permanent seat on the United Nations Security Council 2017/2018, this year's celebration, hosted by the Swedish ambassador to Egypt Charlotta Sparre, highlighted Sweden's global commitment.
In her speech for the National Day, Sparre asserted the good relations between Sweden and Egypt, both on a bilateral and a multilateral level, including in the UN.
At the reception, the embassy showcased exhibitions that highlighted Sweden's role in the UN, peace and security efforts, development cooperation, gender equality, climate change, sustainable businesses, and global trade, as well as the work of some of the most famous Swedish artists. There were also exhibition materials on Swedish innovations, culture and holidays, among other topics.
During the reception, the Swedish ambassador presented awards to the winners of the embassy's Graphic Design Competition, which had challenged participants to use Swedish design concepts to portray something Egyptian. Five winners were chosen and announced during the event.
Throughout the evening, the Egyptian brass-band El-Nafikha played hit tunes from the Swedish band ABBA.
This year's Swedish National Day was organised in collaboration with several Swedish companies, such as ABB, Baxter, Electrolux, Ericsson, Gamma Knife Center, Novelari, Oriflame, Scania, SKF, Swedish Group, Tetra Pak, Volvo, Absolut, Atlas Copco, and IKEA.
Daily News Egypt discussed with Sparre the interactions between Egypt and Sweden from economic cooperation to women's and children's rights.
Sweden's interest in maintaining and strengthening women's status in society is well documented. Many challenges face women here in Egypt. What is Sweden doing in this regard?
It is important to stress on the point that the role of Sweden is to help and support initiatives by Egypt. All the initiatives that we are supporting, especially in the field of women's rights, are Egyptian initiatives.
I believe that this is the most successful model. When initiatives are born from the local culture, the people responsible for these initiatives have a better understanding of the challenges in society and where there are opportunities to develop women's status and situation.
It is not for us to make any policies. What we can do is share experiences, including ours, in this issue, as well as assist and support some of the organisations.
Most of our efforts in this regard are creating programmes to help women through the United Nations. On the other side, the UN is working with the National Population Council and other respective organisations.
What about Sweden's involvement in children's rights in Egypt?
Our main focus is "culture for children". We believe that educating and developing children starts at an early age. If children are given an opportunity to explore different cultures, even fantasy worlds, they will become more creative and tolerant. As such, we celebrate many literary events for children.
We are working with UNICEF, Egyptian partners, bookshops, and NGOs, in this regard.
Many Swedish companies are present to celebrate the National Day with the embassy. What is your level of cooperation with these companies? 
For many years, the embassy has been cooperating with Swedish companies.
Keep in mind that when we do national day events, it is not only about celebrating governmental relations, it is also a celebration of the relations with the private sector, people, and civil society.  This is an occasion to gather everyone together.
Many Swedish companies are working in the same fields as the Swedish government, such as sustainable development, environmental concerns, energy efficiency, good health care, good ethics, and fighting corruption.
So it is very much a partnership between the embassy and these companies, in highlighting what we all can do, what the government can do, what the private sector can do, and what the civil society can do, to create a better world.
What is the state of tourism between Egypt and Sweden?
We used to have about 200,000, sometimes even 250,000, Swedish tourists coming to Egypt per year before the 2011 revolution. Sweden's population is about 10 million, so this number, estimated as a quarter of a million, out of a small population like Sweden's, is a significant one.
Now the number of Swedish tourists visiting Egypt is very small. I am not sure about the latest figures, and I did not see the figures after the latest aeroplane crash, but maybe we are talking about 500 tourists per week.
Egypt, with its sunshine and historical and cultural beauty, has a lot to offer. So these current numbers are too small for a country like Egypt.
Are you optimistic about any changes regarding this?
I think it may still take some time; however, in the long-term I cannot see any difficulties with Egypt eventually picking up again and recovering its tourism influx. This country has so much to offer and I believe that there are many people who would like to come back.
Not many people in Egypt learn Swedish, but many Egyptians are keen to learn other languages, such as Spanish and English. What is your opinion on this?
The number of people whose native language is Swedish is not that many, especially compared to other languages such as English or Spanish. In Egypt, the Swedish community is a small one.
There are online courses. I can see that interest in these courses is growing.
Of course, I would be more than happy if more people learned Swedish, but as a matter of fact everybody in Sweden speaks English. So foreigners who come to Sweden, even students, manage very well even without Swedish.
It is always nice to deal use the language in its native land; however, in Sweden, it is not necessary to use Swedish to deal with the people there.
Regarding presenting Sweden's candidature for a non-permanent seat on the United Nations Security Council 2017/2018, why is Sweden eligible for this responsibility?
We are very proud and honoured by this, as Sweden is one of the most active countries in this regard.
Despite being a small county, we have been working for many years on peace and security issues, as well as the development agenda.
We have been very active, with a very high profile and strong engagement, in many global issues and, of course, in the Middle East, including the Israeli-Palestinian conflict, the Syrian crisis, Libya, Yemen, and all the countries of the region.
What was the role of Sweden in the Serbian-Bosnian crisis?
Our role was very much similar to the role we have been playing in the Middle East.
On one hand, we were politically engaged, trying to help in mediation, and making efforts to create reconciliation.
On the other hand, we also offered humanitarian support, as well as receiving a lot of refugees from the Balkans, in the same way that we have also now received a very large number of refugees from Syria, Iraq, and other countries in the region.