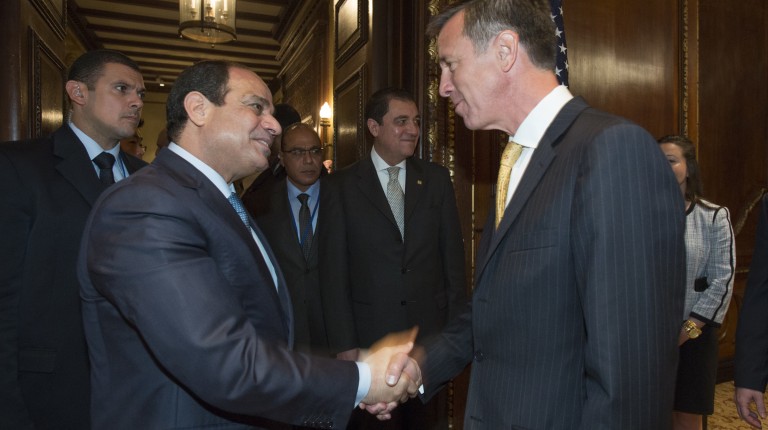 Human Rights Watch (HRW) released a statement on Wednesday condemning the investigations into human rights lawyer Negad El-Borai and two other judges, Hesham Raouf and Assem Abd Al-Gabbar, over proposing an anti-torture bill in March 2011. The watchdog called on Egyptian authorities to drop all charges levelled against them.
The statement explained that, according to media reports, the practice of torture has become a widespread phenomenon in Egypt that is not properly confronted by the authorities. It added that El-Borai and the two judges are accused of charges that could hand them 25-year prison sentences, including  incitement to resist authorities, illicitly receiving funds from a foreign organisation, and publishing false news that jeopardises public safety.
Nadim Houry, deputy Middle East and North Africa director at HRW, said: "in today's Egypt, not even members of the judiciary are safe and independent from the security-minded arms of the state."
Authorities should hold accountable those who commit torture, instead of investigating others who are making efforts to draft a law to combat this phenomenon in Egypt in compliance with international norms, Houry continued.
The statement said that the state had retried several judges due to expression of personal opinions regarding certain political issues, forcing at least 47 in three different cases into retirement, for acts including expressing opinions against the government or the military's July 2013 removal of former president Mohamed Morsi.
It also referred to the case of 12 judges and prosecution members that have been referred to judicial inspection for investigations in the Justice Ministry due to expressing political opinions on social media which oppose Egypt's maritime demarcation deal with Saudi Arabia.
HRW concluded: "there must be respect for the free exercise of the associations defending human rights and legislative amendments must be implemented to help combat the crime of torture."
On 6 June, El-Borai was interrogated for the sixth time. According to the statement, the investigation into him focused on his role in drafting the anti-torture bill, as well as other activities and the funding of his law firm, United Group (UG).
The issue dates back to June 2015 when El-Borai was investigated after the three lawyers submitted a draft law to combat torture to the office of President Abdel Fattah Al-Sisi in May of the same year.
The project was the result of a workshop held by UG, attended by Egyptian judges Al-Gabbar and Raouf, who were also under investigation following a report filed against them by the Supreme Judicial Council for drafting the law.
El-Borai is very involved in human rights issues in Egypt, such as supporting NGOs against prosecution cases, defending freedom of expression, such as in the case of detained writer Ahmed Nagy, and previously writing a column in Al-Shorouk newspaper.
A number of NGOs and human rights organisations have voiced their criticism of the measures taken against El-Borai and the judges.