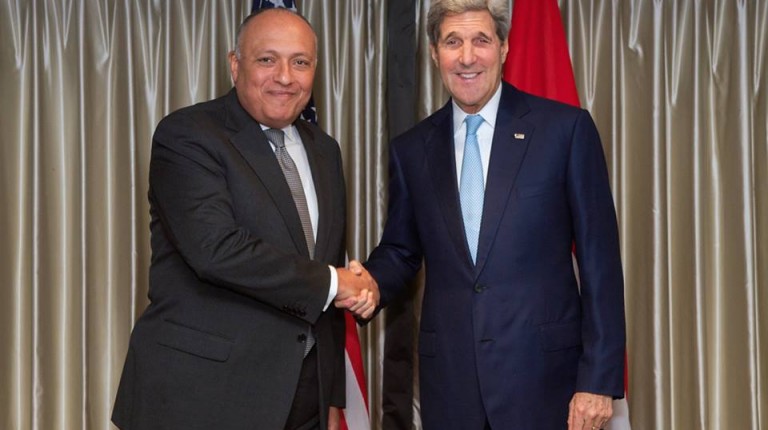 Minister of Foreign Affairs Sameh Shoukry received a phone call from his US counterpart John Kerry on Saturday to discuss developments in Palestine and efforts to revive the peace process in addition to other Middle East conflicts.
The ministry said the diplomats exchanged assessments and perspectives on the aforementioned files, including the situation in Syria and Libya, and agreed on furthering cooperation to enhance efforts for peace and stability in the region.
Earlier this month, Egypt participated in the French-led conference aimed at bringing both Palestinians and Israelis back to the negotiating table, but the initiative failed as the Israelis refused to participate, saying that direct negotiations are the best solution.
The peace process has not faced such ignorance and neglect since the Oslo agreement in 1993, said Shoukry at the conference, which was held in the French capital.
Shoukry emphasised the necessity of cooperation between Russia, the US, and the EU in order to move the peace process forward towards a solution.
Egypt is ready to revive the Arab peace initiative to establish a Palestinian state, he added.
Netanyahu raised the possibility of discussing the Arab Peace Initiative that was introduced in 2002 and included diplomatic recognition of Israel by Arab countries in return for establishing a Palestinian state.
"The Arab peace initiative includes positive elements that can help revive constructive negotiations with the Palestinians," Netanyahu said earlier this month.
"We are willing to negotiate with Arab states' revisions to that initiative so that it reflects the dramatic changes in the region since 2002 but maintains the agreed goal of two states for two peoples," he added.
Saudi minister of foreign affairs Adel Al-Jubeir said the Arab initiative that was presented in 2002 still has all the elements for a comprehensive settlement.