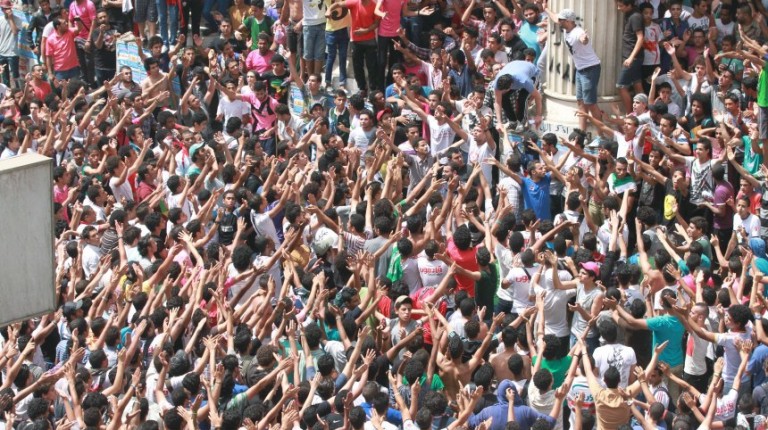 Lawyers from Abu Kabir in Sharqeya Governorate launched a partial work strike on Monday in Abu Kabir court.
The action came following the detention for 15 days of two lawyers pending investigations over charges of unlicensed protest, stirring riots, and disrupting public clerks from executing their jobs, according to state-run newspaper Akhabr Al Youm.
The strike took place following a crisis that erupted when lawyers from Abu Kabir in Sharqeya Governorate gathered last Thursday inside the Abu Kabir court to express anger over the mistreatment of a prosecutor after he refused to settle an argument that erupted between one of the lawyers and a clerk inside the court.
The prosecutor, besides his aforementioned refusal, expelled the lawyer. This action stirred outrage among lawyers, leading them to strike, according to the lawyers' narrative published on the Sharqeya Lawyers Syndicate Facebook page on Monday.
Following the strike, head of the Lawyers Syndicate Sameh Ashour met with prosecutor-general Nabil Sadek to discuss the strike and the imprisonment of the two lawyers, according to a statement on Monday.
"[The] head of the Lawyers Syndicate asserted during the meeting that the crisis started from the Abu Kabir prosecutor who mistreated lawyers. He asked for clear investigations with both parties of the crisis. He called for the immediate release of the detained lawyers," the statement read.
The prosecutor-general stressed his respect for all lawyers and promised to open a fair investigation into the incident and to revise the remand of the two lawyers, Abdel Badie Ebrahim and Mahmoud Al Azwai, the statement clarified.
On Saturday, Ashour ordered the formation of a crisis management committee following the assault on a lawyer in the city of Rashid.
Walid Nassar, a lawyer based in Rashid for one of the housing associations in Beheira, met with the police chief in Rashid where he was informed of a decision to demolish a building that belongs to the association he works for.
An altercation took place between both parties after the lawyer legally objected to the decision. The police chief ordered security to take the lawyer out of his office. The lawyer fell on the floor and sustained injuries to his head, chest, and elbows.
In early May, 12 lawyers received arrest warrants for protesting without a permit in front of the Lawyers Syndicate on 23 April.
During the same month, two lawyers were assaulted by officers from Dokki police station as tension escalated between lawyers and police over the arrests of protesters against the maritime demarcation deal between Egypt and Saudi Arabia over the Red Sea islands.