While the 25 January Revolution signalled an end to the era of Hosni Mubarak, a new business tycoon was emerging with the aim of beginning a business empire while former Mubarak allies exited the game.
Ahmed Abou Hashima first made his mark in the steel industry. While the former star of steel Ahmed Ezz saw his decline following the ouster of Mubarak, Abou Hashima stepped in to take his place as emperor of steel.
Abou Hashima is currently chairperson and CEO of the Cairo-based Egyptian Steel, which he co-founded in 2009. He has worked in the steel industry since 1996, which was the same year he received his Bachelor's degree in Commerce. In addition to Egyptian Steel, the tycoon also owns Abou Hashima Steel Group and has shares in many other major industry companies in Egypt.
Steel was not the only thing Abou Hashima had his sights set on. The tycoon would also seek to make his mark in the media industry. Challenging famed businessman Naguib Sawiris, Abou Hashima purchased the Sawiris media outlets ONTV and ONLIVE in May with the aim of developing the two channels and expanding his business in Egypt's media industry.
At the beginning of June, Abou Hashima acquired 51% of the Presentation Advertising Agency, which broadcasts Egyptian football league matches. After that, he acquired 50% of the production company Egypt for Cinema. These purchases are added layers on top of his majority stake in Al-Youm Al-Sabaa newspaper.
With all of these businesses under his control, Abou Hashima has becoming a dominate player in the media industry with ease.
Acquisition of ONTV
On 15 May, Egyptian Media Company, owned by Abou Hashima, signed a contract to acquire 100% of ONTV and ONLIVE, previously owned by tycoon Naguib Sawiris.
ONTV played an important role during and after the 25 January Revolution, as it hosted several political TV programmes. This is in addition to organising a presidential debate between two candidates in 2012 and broadcasting the crowd pleasing Al-Ahly and Zamalek football matches.
Egyptian Media Company also announced that it would seek to develop two additional TV channels to add to the regional media map.
Under Abou Hashima's guide, the company announced it is looking to restore Egypt's role as the leader in the media, television industry, and drama series production once again.
Egypt was once ranked at the top of regional media, whether in Radaman drama series or news production, but that star has been fading as of late, with other countries in the region rivalling Egypt's media production capabilities.
The company said that that acquisition of ONTV and ONLIVE is a step towards achieving this goal, and it will be followed by other steps to support the main objective of the company.
During a meeting with employees of ONTV on 5 June, Abou Hashima said he targets to acquire the top spot among Egyptian TV channels.
He added that the aim of development is to create a media entity that provides competitive ideas and programmes, in addition to using modern technology and production techniques.
"New studios will be established and equipped with several programmes to produce good content in Egyptian media," Abou Hashima added.
Regarding the channel's news section, he said that this sector will be developed and supported significantly. He also suggested the possibility of signing cooperation protocols and exchanging content deals with local or international media organisations as well as recruiting new talent.
Acquisition of 51% of Presentation Sports
On 1 June, Abou Hashima finalised an agreement that would lead to his acquisition of 51% of Presentation Sports at a cost of EGP 185m.
Presentation Sports holds the rights to broadcast the Egyptian league matches.
The CEO of Presentation Sport, Mohamed Kamel, said the partnership between his company and Egyptian Media Company would aim to further develop the company from all angles.
Kamel added that his company is committed to all its contracts with clubs and channels. The goal of this partnership is to open new horizons for the future, said Kamel, by pumping more money, ideas, and programmes in the field of sports for the company's development, especially in the areas of marketing and media.
"Partnership with Abou Hashima aims to develop Egyptian football and Egyptian sports in general because we believe in its importance as an industry in Egypt's future," Kamel said.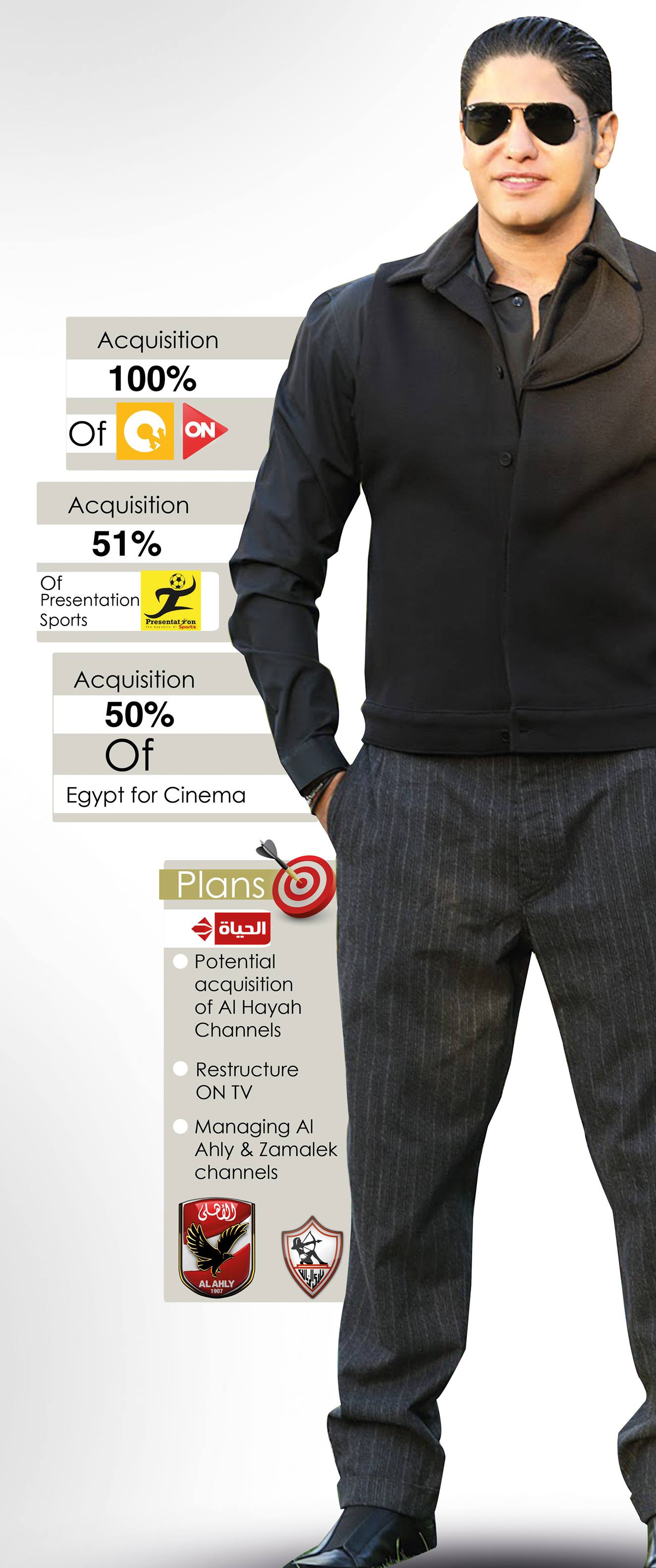 Acquisition of 50% of Egypt for Cinema
Egyptian Media Company signed on 6 June an contract that would secure the acquisition of 50% of the production company Egypt for Cinema, which is owned by producer and businessman Kamel Abu Ali .
Abou Hashima agreed with Kamel Abou Ali to produce new movies and TV series to revive Egypt's position in the field, particularly after its recent decline following the 25 January Revolution.
Once the new partnership is sealed, Abou Ali said the company's name will be changed to Egyptian Media for Cinema.
The new contract aims to provide new capital to produce new work and encourage the film industry in order to "deliver Egypt's real image to the world".
Egypt for Cinema has already begun new production of films and TV drama series, Abou Hashima announced earlier.
Abou Hashima's acquisition of half the stakes of Egypt for Cinema will lead to an increase in the company's capital by EGP 100m instead of EGP 65m, according to Abou Ali.
Abu Ali said that he agreed with Abou Hashima to produce at least five films and five drama series per year in order to push art production forward and provide more to the field of cinema.
Plans for the future
Abou Hashima said the acquisition of ONTV is the first step of many in his attempts to revive Egyptian media with new projects, which will include the launch of new TV channels and series. This is in addition to other projects in digital media and online television broadcasting that would target youth through the internet. Abou Hashima is also reportedly planning a venture that would produce English-language content and be driven by the youth.
With a number of acquisitions under his belt, Abou Hashima is also planning to obtain control of other media companies and revamp the ones he's purchased.
Potential acquisition of Al Hayah channels
Abou Hashima is negotiating to acquire Al Hayah channels, currently owned by Al-Wafd Party chairperson El-Sayed El-Badawi, but the deal has stalled due to financial disputes.
Restructuring ONTV
Abou Hashima has said that ONTV seeks to compete for first place in Egyptian media during the coming period through expanding TV series and talk show programmes.
He has instructed leaders of the channel to create a timetable for the completion of the development of all the channel's studios by no later than 30 August.
Daily News Egypt previously reported on Abou Hashima's plans to launch a new channel called ONTV Sports, which seeks to compete with beIN sports. He will also extend ONTV's reach further by establishing ONTV news in an effort to compete with Al-Jazeera channel.
Managing Al-Ahly and Zamalek channels
Presentation Sports won the right to manage Al-Ahly channel for a period of three years, ending in 2019, just a few days after Abou Hashima acquired 51% of the company.
According to the agreement between the company and the board of Al-Ahly Club, Presentation will pay the Egyptian Satellite Company (NileSat) $90,600 in addition to EGP 2m in employees' overdue salaries on top of a pledge to not dismiss any of the channel's employees.
The agreement stipulates that Al-Ahly Club will receive EGP 8m annually in addition to 15% of the channel's profit over the next three years, while Presentation will receive 85% of the profit, according to Al-Borsa newspaper.
The newspaper added that Presentation intends to pump EGP 250m in new investments to develop Al-Ahly channel and it will develop new programmes that include contracting with media professionals, buying league and cup matches, and equipping the channel with new studios. Furthermore, the company will give Al-Ahly channel the right to broadcast Egyptian league matches.
A five-member committee will be formed with three members from Al-Ahly Club and two from Presentation Sports to manage the channel's affairs.
Zamalek Club chairperson Mortada Mansour also met with Abou Hashima to negotiate the launch of a new Zamalek channel.
A source in Egyptian Steel Company also revealed that the company is likely to be the official sponsor of the Egyptian League instead of SAIBANK.
Monopolising the Egyptian media market
A recent study conducted by researcher Mohamed Reda proposed that acquisitions in the media market would shift dramatically, where Egyptian businessmen would become the dominate players rather than foreign businessmen and companies.
The study added that these acquisitions would aim to create a monopoly in specific sectors, making use of a decline in market value of companies.
The study noted that there is a different discourse from government agencies regarding acquisitions depending on which businessman is making the move.
The government has created a number of obstacles that are preventing famed businessman Naguib Sawiris from acquiring CI Capital Holding in the financial services sector, although reasons for this remain murky. Opposite to this, Abou Hashima has stepped out to become Sawiris' rival, as he has not faced any obstacles in any of his recent acquisitions in the media sector. The study attests that the media sector is similar in importance compared to the financial sector, as they both reflect on Egypt and its position abroad.
Political activist and member of Abdel Fattah Al-Sisi's 2014 presidential campaign, Hazem Abdel Azim, said that Abou Hashima's acquisition of Sawiris' channel proves that there is a general trend in Egypt under the direct instructions of the president to nationalise the media by controlling it through particular businesses and businessmen.
"Abou Hashima is one of the most prominent businessmen known to be close to the president," noted Abdel Azim.