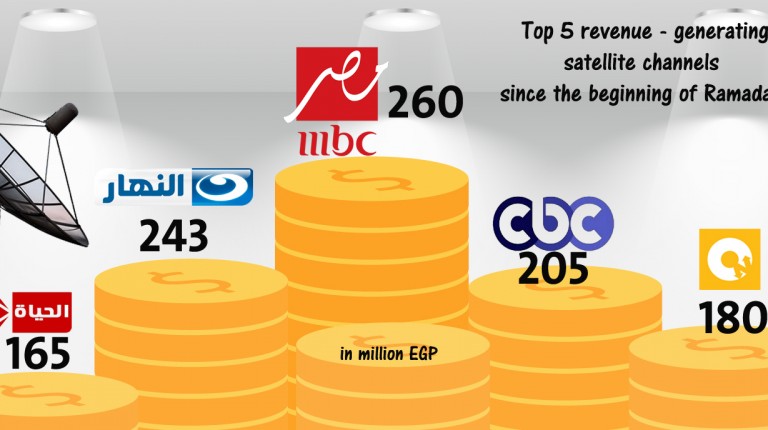 MBC Masr TV channel collected EGP 260m in revenues during the first two weeks of Ramadan, topping the list of top TV channels in terms of revenues earned since the beginning of Ramadan, representing 50% of the total advertisements this year.
MBC Masr featured the exclusive broadcasts of the TV shows Ma'moon w Shorakaa'oh (Ma'moon and his partners), Al Ostoorah (The Legend), and Ramiz Byelaa'b BelNar (Ramiz is playing with fire).
The top 10 satellite TV channels collected EGP 1.5bn in revenues in total in the first two weeks of Ramadan, surpassing the target revenues of EGP 750m for the whole month. The channels are now projected to earn EGP 2.2bn by the end of Ramadan.
Al-Nahar came second on the list with EGP 243m in revenues, supported by the increase in the number of viewers for the programmes Ras El-Ghoul, Afrah El-Qobba, and El-Khanka.
CBC, which was ranked second in 2015, ranked third on the list with revenues worth EGP 205m.
The series Wannoos, Fooq Mostawa El Shobhat (Beyond Reproach), Soqoot Horr (Free Falling), and Afrah El-Qobba obtained the largest shares of the channel's ads.
The two companies Al-Mostaqbal and Trenta, who own the channels CBC and Al-Nahar respectively, have agreed to merge into a new entity, scheduled to be completed by the end of 2016.
The new entity, which will be called CBC-Al-Nahar, will have the lion's share of ads, likely topping the list of satellite channels in the future.
ONTV came fourth this year, with revenues worth EGP 180m. The channel is planning adjustments to its programme strategy after Ramadan.
Businessman Ahmed Abou Hashima recently bought ONTV and ONLIVE from businessman Naguib Sawiris.
Al-Hayah channel came fifth this year after the financial crisis it witnessed at the beginning of 2016 resulted in the channel not broadcasting any exclusive series, causing lower than usual viewership.
The channel achieved revenues worth EGP 165 during the first half of Ramadan. Its highest-revenue programmes include Hany in the Jungle, Wannoos, and El Moghany (The Singer).
The channel TEN achieved revenues worth EGP 145m, ranking sixth, followed by Sada El-Balad with revenues worth EGP 110m, and Al-Kahera Wal Nas with revenues worth EGP 99m.
In ninth place came Al-Mehwar with EGP 70m in revenues, followed by Dream in tenth place with revenues amounting to EGP 34m.