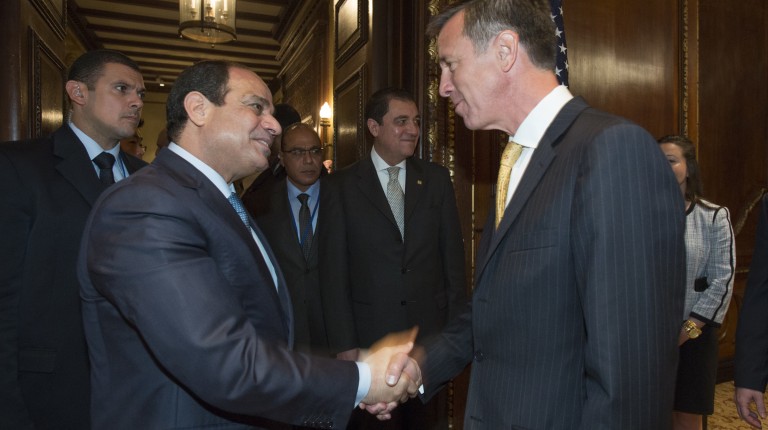 Prime Minister Sherif Ismail ordered on Friday the formation of a ministerial working group to review the Trade Union Federation bill before it is presented to the cabinet, and then parliament.
The working group appointed to review the bill includes several ministers, such as the minister of military production, finance, and manpower.
Moheb Aboud, a representative of the teachers' independent union, told Daily News Egypt that the law has several substantial problems, the most significant one being its arbitrariness in acknowledging the independent unions.
The bill only acknowledges the associations within the Egyptian Trade Union Federation (ETUF), with no regard whatsoever for the independent ones, said Aboud, adding that they mainly aim to silence the workers and deny them their right to choose their representatives.
"This bill does not serve the workers, but rather the employers, who already ignore legal verdicts and deny workers their rights. What makes it worse is that the bill imposes sanctions on strikers who may protest against decisions of their employers," said Aboud.
Aboud added that independent unions are legally acknowledged, and the government is doing its best to take this privilege from them and has continued to crackdown on workers.
Mohammad Sabrah, the treasurer of the Egyptian Federation of Independent Trade Unions (EFITU), told Daily News Egypt that they did not review the bill and know nothing of its content. "We filed several demands to the parliament in order to see the bill but with no response whatsoever. We have not even taken part in drafting it."
Concerning the disputes between EFITU and the ETUF, he said that the only dispute is that the members of ETUF are appointed, unlike the EFITU who are elected and chosen by workers.
"They do not represent the workers because they were hired by the government. It's more realistic that we—independent unionists—represent the workers because they chose us, so we cannot be eliminated. However, there is no major problems between the two unions," Sabrah said.
He added that during the annual international labour conference that was held in Geneva earlier this month, a complaint was filed to the head of the International Labour Organisation. The complaint protested the awful circumstances of the independent unions and the arbitrariness of the Minister of Manpower against them.
In April, lawyers in the Egyptian Center for Economic and Social Rights filed two defense memorandums to an administrative court, demanding that independent unions be legalised.
In May, Human Rights Watch (HRW) called on the Egyptian government to legalise independent trade unions in Egypt and provide them with the basic rights of workers.
The rights watchdog demanded free and fair elections to members of union boards for the first time since the 25 January Revolution.