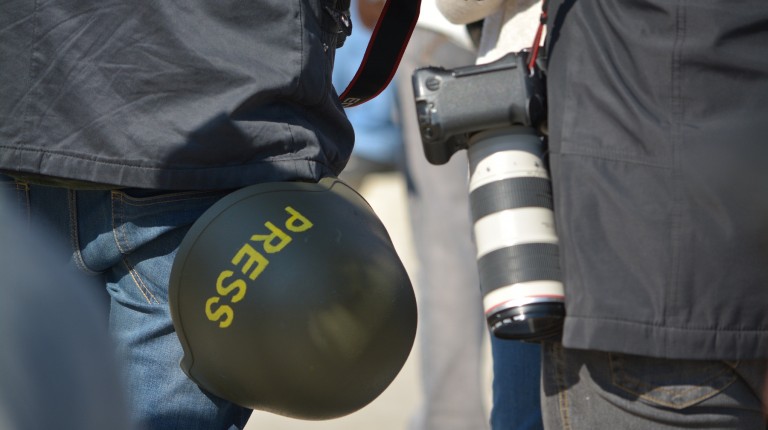 Qasr Al-Nil Misdemeanour Court postponed on Saturday the trial of the Press Syndicate's head Yahia Qalash and two board members, Khaled El-Balshy and Gamal Abdelrahim, to 9 July to hear testimonies of defence witnesses.
On Saturday, a court session was held to hear the testimonies of six prosecuting witnesses whose testimonies were previously demanded in the second court session that took place on 18 June.
The court listened to the witnesses who had been present at the storming of the Press Syndicate on 1 May. The witnesses included the syndicate and security forces that carried out the incident.
Journalists Amr Badr and Mahmoud Al-Saqa, who were arrested during the syndicate storming, were requested to provide their testimonies in accordance with the defence's demands, but the court refused to hear them.
Police officers kicked the journalists out of the court session and prevented them from giving testimonies. El-Balshy commented saying that no one has the right to prevent the journalists or anyone else from attending the court session, unless by a judge's order.
The court also discharged CDs that included recorded phone calls of the syndicate leaders speaking about the syndicate storming incident.
Qalash and Abdelrahim did not attend their court session for the third time. However, El-Balshy was present. He explained that the other two leaders will attend upon completion of procedural hearings and the start of the ruling sessions.
The leaders were interrogated by the prosecution on charges of hosting Yanair Gate's editor-in-chief Amr Badr and journalist Mahmoud Al-Saqa inside the syndicate building in April and of "spreading false news".
In late May, the trio spent a night in police custody after refusing to pay EGP 10,000 bail each, following an investigation session by the general prosecution.
The syndicate leaders consider the trial an attempt to manipulate the facts in order to depict the storming of the syndicate as an ordinary security measure.