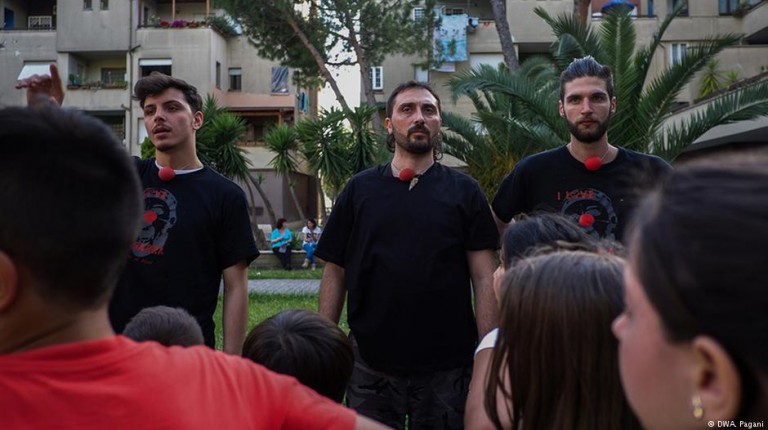 In a Naples neighborhood dominated by mafia, young people who worked for the Camorra syndicate as kids teach the art of circus, theater and parkour as an alternative to a life of crime. Sara Manisera reports from Barra.
"When my best friend was killed, I had to choose which side I was on. I chose to wear red noses and teach kids how to walk on stilts," explains 22-year-old Marco Riccio, vice president of Il Tappeto di Iqbal (Iqbal's Carpet), from his office in Naples.
The non-profit cooperative operates in the mafia-dominated neighborhood of Barra in the city's east to educate "the children of Camorra," the Naples mafia, in the art of circus, theater and parkour. It was named after Iqbal Masih, a Pakistani boy who escaped from life as a child slave and became an activist against bonded labor in the 1990s.
"If you are born in this territory, you don't have too many choices. It's easy to lose yourself," says Riccio (above, right), a former scugnizzo, a widely used term for children who work for the mafia. "Those are roads that lead you to a wooden coffin or behind iron bars," he adds.
Barra, which is home to some 45,000 people, has the highest rate of school dropouts in the Italian region of Campania. Once a thriving industrial community, many of the factories were destroyed in a 1980 earthquake and never rebuilt. The resulting de-industrialization turned Barra into a poor, decaying neighborhood in the choke of the mafia. There are no cinemas, theaters, parks or public spaces in Barra. No high schools and no police stations.
The vast majority of children from poor families are faced with the choice of working in the black economy or joining the ranks of the Camorra.
"You can work honestly, but illegally, and earn 70 euros per week, or you work for Camorra as a lookout for a drug dealer and get 100 euros per day," says Riccio.
Like other Italian crime families, the Camorra permeates society, and its entrenchment makes it notoriously tough for law enforcement to crack. Unlike the structure of Sicilian mafia, which puts family at the heart, the Camorra has a horizontal and federal structure with numerous clans that control set areas. Clans often come to blows over territory and business, and feuds are frequent and very violent.
Children are enlisted into the ranks of the Camorra from a young age, working as extortionists, enforcers and thieves. A 2015 report by Save the Children Italy found that over the past 10 years at least 17 children had been killed in feuds in Campania and 148 minors charged with associating with one of the mafia.
An alternative to crime
At the entrance to the grey school that hosts Iqbal's Carpet, a group of teenagers sit on the stairs smoking cigarettes and suspiciously eyeing those coming and going. The surrounding edifices are ashen and crumbling. In the adjacent streets, scooters each carrying three or four helmetless young men whizz by. Control of the territory is crucial in a neighborhood dominated by the mafia.
Inside the school, the youngest kids have gathered in the middle of the gym with hip-hop instructor Mario Di Matola. They are wary of this reporter; in a thick Neapolitan accent 10-year-old Salvatore demands: "Who are you?"
After introductions, the boy explains what brings him here: "I do breakdance because it distracts me and keeps me busy," he says. "Since I've been coming here, I don't hang out on the street, wasting time."
In a corner of the gym, Riccio hands out hoops and balls to a group of children who want to learn circus skills. The instructors share the space, which is in short supply, while the number of kids participating increases all the time. More than 100 children take part in the activities at Iqbal's Carpet. The sound of juggling clubs and hoops echoes around the gym.
Anna, a 12-year-old girl with lively eyes and a marked Neapolitan accent, takes a pair of stilts from a bag. She explains that she comes here because it's fun, and that she especially likes theater "because you learn many things. But above all, you learn to trust the others."
Like many of the kids from the area, Anna comes from a poor family. Others at Iqbal's Carpet come from strong mafia families.
"At the beginning of our project, the biggest problem was to keep [certain] kids together as they were from rival and opposing Camorra clans," says Giovanni Savino (top photo, middle), a specialist educator and president of Iqbal's Carpet. He used social theater to get the teenagers on the stage.
Iqbal's Carpet has given performances across Italy in the past eight years and garnered the European Commission's award for "Best innovative citizenship project" in 2013.
Hostile environment
"We have discovered a new world, a new reality," says Riccio. "Before we lived in black and white, isolated and marginalized in our neighborhood. Today, we travel around Italy, we collect funds through our performances, and we bring them back to Naples to train [other] younger kids. We have replaced weapons with fire performances and hashish with juggling balls."
Despite the sense of satisfaction, obstacles remain. In territory controlled by the mafia, local institutions do little to nothing to protect groups like Iqbal's Carpet. Giovanni Savino has received threats for depriving the Camorra of arms and young soldiers. The cooperative is left isolated in a threatening and hostile environment. In addition, Iqbal's Carpet does not receive any state funding and must work hard to make ends meet.
Recently, Save the Children Italy opened a number of educational and social spaces in Barra. The centers, known as Punti Luce, or points of light, aim to help local kids stay out of the mafias and have also become hubs for Iqbal's Carpet to work.
"We chose to support Iqbal's Carpet because we want to enhance the existing realities of the neighborhood," says Michele Prosperi of Save the Children. "It's an informal and participative educational method that teaches children self-awareness, collective unity, and discipline."
In mafia-dominated Barra, Iqbal's Carpet is a social laboratory for creating alternatives, not only because it offers something beyond the traditional clans, but also because it represents a different model of organization and resistance on the part of civil society.
"Where the mafia has replaced the state," says Giovanni Savino, "we have replaced the Camorra by offering the children an alternative for their future."