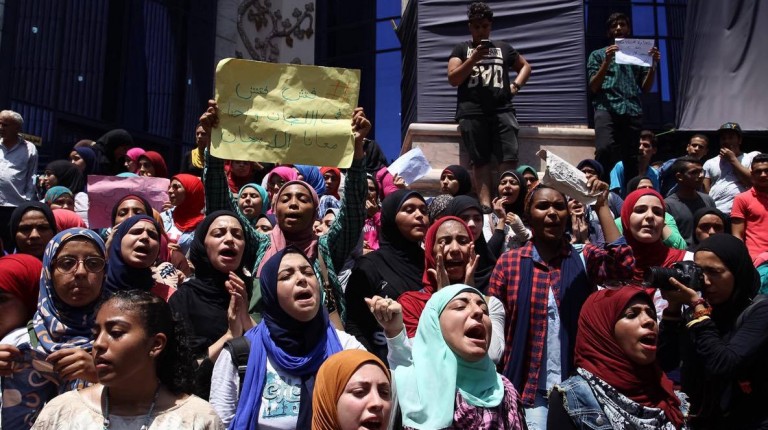 In the last of the thanaweyya amma secondary school exams for 2016, exam leaks continued for four subjects over three departments of the secondary level.
Answers to the history, geology and environmental science, solid geometry, and algebra exams were leaked online within the first five minutes of the exams' beginning.
At dawn Monday, sample exams were leaked on social media platforms. These exams were not identical to the exams the student took early on Monday, according to thanaweya amma students.
Student Mohamed Aboelkhair told Daily News Egypt: "Throughout exams period, the majority of us were not interested in looking at the leaked exams. We were so stressed, and the leaks were harming us. We only wanted to study well in order to pass the exam knowing that the thanaweya amma exams are difficult and require great effort."
Since the beginning of the exam season in early June, all exams have been leaked on social media either prior to or during the exam time, though the Education Ministry denies some leaks.
These four subjects were postponed from their original time to early July due to the leak of the dynamics exam—part of the mathematics exam—that trigged controversy and sparked protests as the exam content was leaked for a second time following an initial postponement.
Following the four exams, a number of students gathered in front of Al-Mounira School to protest against repeating the exams and to call for dismissal of Minister of Education.
However security forces closed the area around the Ministry of Education and dozens of security personnel were present.
Over the past weeks, a major protest at the ministry's headquarters in downtown Cairo was dispersed by security forces and dozens of students were briefly detained over the protest.
Over 20 people have been arrested on charges of leaking exam papers on the internet since the start of the exams earlier this month. The arrests came as part of a crackdown on exam fraud.
The thanaweya amma exam leaks have put the Ministry of Education under increasing pressure, raising more and more questions about Egypt's education system, which many are calling to change.