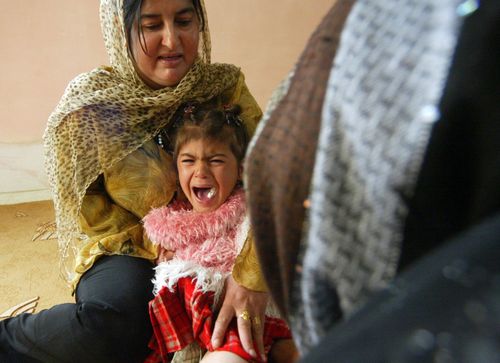 The Ministry of Health and Population confirmed on Sunday that it prepared a bill that suggests much stricter penalties on those who practice female genital mutilation (FGM), on doctors and families involved in the crime.
Minister of Health and Population Ahmed Emad met with several officials on Sunday to consider severe deterrents and stricter penalties on doctors and nurses who practise FGM. They also discussed restrictions for the congenital defects that doctors claim to be the reason for the operation.
Deputy Minister for Population Affairs Maysa Shawky said in a press statement that the National Council for Population will release a number of policies and decisions to combat FGM. She also added that the council will prepare several awareness articles to be published in national newspapers every day.
The meeting coincides with the court order to release the mother of an FGM victim in Suez for the second time. However, the prosecution appealed the decision. The Suez court issued a release order for the defendant in June, but the prosecution appealed the decision as well. The appeal was accepted and the detention of the defendant continued.
Dalia Abdel Hameed, head of gender studies at the Egyptian Initiative for Personal Rights (EIPR), told Daily News Egypt that stricter rules are not as important as the right characterisation of the crime.
"The law only is not sufficient to preclude people from committing the crime. The accused mother didn't report the death of her daughter because she didn't want to get arrested. However, if the law is encouraging people to report FGM incidents by exempting the one who reported it, this will be more effective," Abdel Hameed said.
She went on stating that the awareness articles that are suggested by Shawky are a good move; however, the awareness initiatives should not only be addressed through religious and health aspects, but be about the rights of girls, especially their right in a healthy sexual life.
EIPR released a position paper in June, suggesting legal means to activate laws criminalising FGM, in which it suggested several techniques to make the law more effective.
According to a UNICEF report, Egypt ranked sixth among countries that practise FGM worldwide, with 85% of genitally mutilated girls and women, aged between 15 and 49 years.