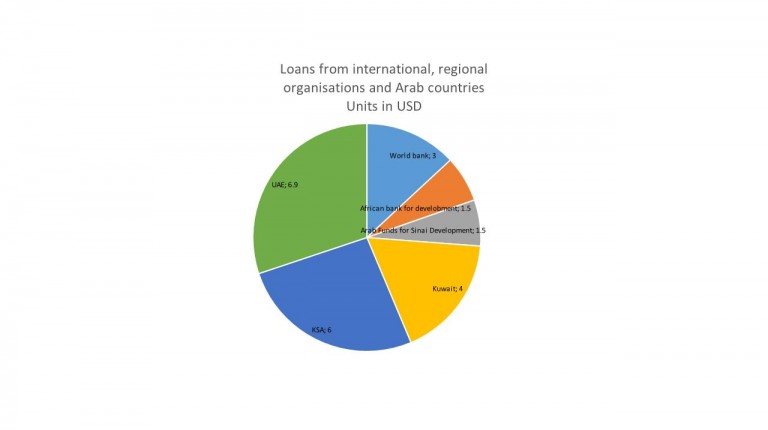 While the huge number of loans obtained by the government may have divided opinions—with some believing the loans are beneficial and others thinking they are risky and lack repayment mechanisms—both parties must agree that these loans cannot cease in the coming period.
The rate of borrowing is unprecedented, says Eman Negm, an economist at Prime Holding, adding that the loans Egypt obtained have not yet changed anything. "The government angles these loans to fill open mouths," she said, referring to repayment of the Qatari deposit and bridging the budget deficit.
The government's inability to increase foreign capital and attract direct investment will push it to take out further loans. Solving investors' problems and implementing rules to attract foreign investments are the only way to solve the economic problems, according to Negm. She explained that many investors are interested in doing projects in the Suez Canal zone, but the government is responsible for delaying this—both directly and indirectly.
The previous government missed an opportunity given to it by investors during the 2015 Egypt Economic Development Conference in Sharm El-Sheikh. Negm explained that there was $100bn worth of memorandums of understanding for projects. "But the government's inability to solve investment problems halted these projects," she said.
On external debt, she noted that the current state of the debt is still safe; however, she warned that the external debt to GDP ratio will rise from its current 16% to 20% in just two years if the pace does not change. If this ratio reaches 20%, that would indicate a serious problem.
Negm said that the government's inability to achieve the required GDP growth rate and the continuing decline in the value of the currency contribute to the increase of external debt. Despite this, Negm said it is unlikely that the government will stop borrowing any time soon.
Mohammad Abou Basha, economist at EFG-Hermes, said that the government's borrowing trend is growing. "This is not healthy," he noted.
He explained that the loans obtained by the government in the past were good as 85-90% of the loans came from international institutions on facilitated conditions. Hence, the size of debt has not been a problem thus far.
Abou Basha said that the government continues to seek loans as it needs foreign currency due to the poor circumstances surrounding the Egyptian economy, which have curbed the ability of Egypt's foreign exchange resources to generate hard cash from sectors such as tourism and foreign direct investment.
The government's borrowing, however, gave a big boost to investors. "Loans are a certificate proving the Egyptian economy is on track to improvement," he said.
He urged the government to halt borrowing in the coming period and to focus more on attracting foreign capital to help improve the situation and reduce unemployment.
He also praised the presidency's decision to borrow only after intensive studies and proof of a projects' ability to generate funds to repay loans.