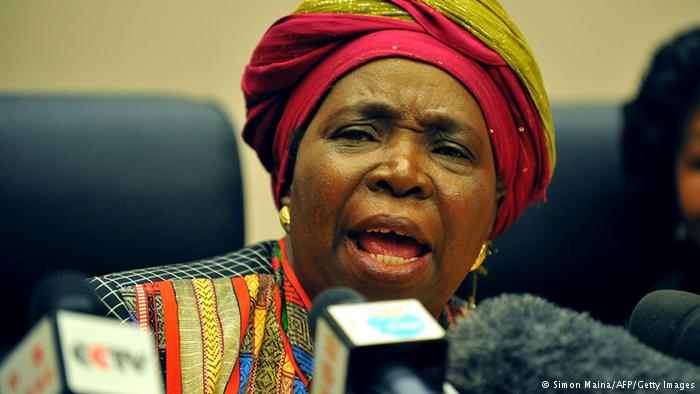 Crises, such as South Sudan, Somalia and Burundi, are clamoring for attention at the upcoming African Union summit. So, too is the thorny question of who should succeed Nkosazana Dlamini-Zuma as AU Commission chair.
Nkosazana Dlamini-Zuma, ex-wife of South African President Jacob Zuma, got off to a bumpy start as chair of the African Union (AU) Commission. Only after four rounds of voting did she garner the two thirds majority she needed to be elected to the post. A South African national, who has served in the three South African governments as foreign, interior and health minister respectively, Dlamini-Zuma found it particularly difficult to amass support in francophone Africa. The animosity her candidature generated in certain quarters, and the split it caused in the AU, persisted long after the protracted rounds of voting and still exists to this day.
"It was really very difficult for Dlamini-Zuma to try and win over those countries who didn't vote for her," Liesl Louw-Vaudran , a consultant with the Institute for Security Studies (ISS) in Pretoria, told DW. "Especially because South Africa pushed hard for her candidature, elbowing its way through," Louw-Vaudran said.
Despite being uncommunicative and perhaps abrasive at times, Dlamini-Zuma has managed to get things done. She has also sought to boost efficiency and encourage private initiative in Addis Ababa, seat of the Africa Union. In the foreign policy arena, she has been nurturing ties with China and Asian nations generally.
Dlamini-Zuma's four year term ends this year and she is not seeking re-election. Choosing a successor is on the agenda of the AU summit in Kigali and it is likely to be just as wearisome as her election in 2012. There are three candidates. Pelonomi Venson-Moitoi and Agapito Mba Mokuy, foreign ministers of Botswana and Equatorial Guinea respectively and the former Ugandan Vice President Specioza Kazibwe. None of them are high caliber public figures who could refurbish the AU's tattered image. "There are many in the AU who don't believe that these three have the stature and experience that one would wish for in this job," Louw-Vaudran said.
Good examples lacking
Neither Equatorial Guinea nor Uganda can be regarded as beacons of democracy or good governance. That just leaves Botswana, which has a solid reputation for good governance, but suffers from the disadvantage of being a southern African country. Botswana, like Souht Africa, is a member of Southern African Development Community (SADC) and therefore not really acceptable to many people in North, East or West Africa. In addition many African heads of government view Botswana with suspicion because it is an ardent supporter of the International Criminal Court (ICC) and therefore at loggerheads with influential countries such as Kenya and Rwanda, which are campaigning for an African withdrawal from the court.
Some are seeking alternatives to the three individuals listed above and one name that crops up frequently is Ramtane Lamamra, the Algerian foreign minister and a widely respected AU peace and security chief. But because his compatriot Smail Chergui is about to be elected head of the Peace and Security Committee, one of them would have to step aside. Two Algerians in two key positions is unlikely to be acceptable to other member states. Other names being suggested include former Tanzanian president Jakaya Kiwete and the UN Special Representative for Central Africa Abdoulaye Bathily.
Voting for a new AU Commission chair could, however, end with no clear winner and the election could be pushed back until the AU summit in January 2017. Dlamini-Zuma's deputy, Erastus Mwencha, would then take over the post temporarily in the meantime. One AU official described the situation as "completely chaotic." Louw-Vaudran views it from a rather different angle. "Previously nobody would have cared who became head of the AU Commission. But now there at least a desire for a leader who has a vision for the future," she said.
Candidates instead of issues
So the Kigali summit could be dominated by backroom meetings about candidates and balancing regional interests, even though there are more than enough substantive issues to discuss. One example is the sentencing of former Chadian military dictator Hissene Habre to life imprisonment for war crimes and crimes against humanity by a special African court in Senegal.
That trial could be a big boost for the African Court on Human and Peoples' Rights in Arusha. However, calm and comprehensive debate is still needed over whether sitting heads of state should still be granted immunity from prosecution. Immunity was approved by the AU in 2014.
There also needs to be a debate over whether calls for a mass exodus of African states from the International Criminal Court (ICC) really do have the support of the majority. Even though the summit host Rwandan President Paul Kagame favors a withdrawal from the ICC, it is likely that he will only broach the subject on the sidelines on the conference, ISS analyst Yann Bedzigui said. "The agenda is drawn up by Dlamini-Zuma and AU chair Idriss Deby, Kagame won't be able to raise the issue himself," he told DW.
The AU's recent announcement that it intends to withdraw its troops from Somalia from 2018 onwards and hand responsibility for security over to the Somali security forces would be worthy of a plenary debate. The departure of the 22,000 AMISOM troops will leave a security vacuum behind that Somalia will not be able to fill effectively on its own. There are elections in Somalia in August and the security situation there becomes more precarious by the day.
The AU and the outgoing head of its Commission, Nkosazana Dlamini-Zuma, are preoccupied with other matters. From 2018 onwards, Africans should be able to travel across the continent without a visa. Currently, that is only possible in 13 African countries. As a symbolic gesture, heads of government at the Kiglia summit will receive biometric passports. But this ambitious scheme has it critics, including the countries themselves. Many African states rely on visas as a source of revenue and they would be unwilling to dispense with it.