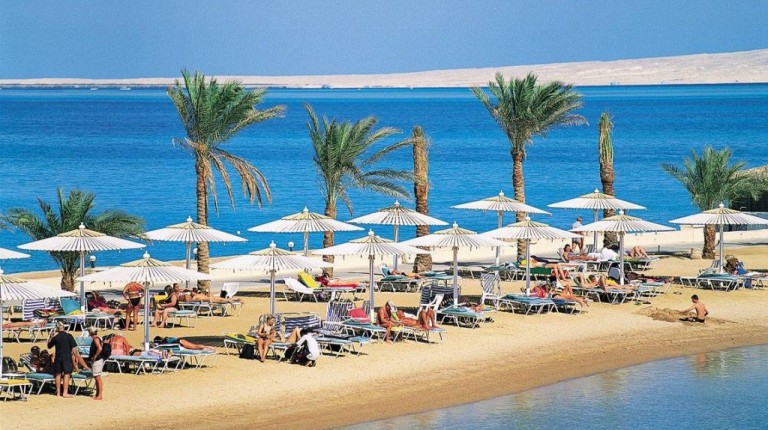 A customary reconciliation session took place Saturday between Muslim and Coptic elders in the village of Al-Fashn in Beni Suef, after Muslim residents attacked a number of Coptic houses last weekend.
On Sunday, state officials─including the Beni Suef head of security directorate General Mahmoud Al-Esheiry and governor Sherif Habib─visited the village of Al-Fashn to "follow up on the situation" and listen to the complaints of residents.
Both Habib and Al-Esheiry asserted that the violence was not between "Muslims and Copts… and that all is calm". Both highlighted the illegality of the Coptic man's alleged decision to turn part of his private residence into a place of prayer for fellow Copts.
Member of parliament Gamal Hendy said Sunday that there was no sectarian strife, but rather a disagreement which was solved after the customary reconciliation session.
In footage circulated on several social media outlets, a number of young male residents appeared to be throwing stones at some homes believed to be owned by Coptic citizens.
Al-Esheiry said that authorities are interrogating 18 residents who were proven to have participated in targeting Coptic citizens' homes.
The reconciliation session was attended by MPs and elderly male representatives from the village, and reached a consensus that no churches can be built without security permits.
Following the reconciliation session, the release of the attackers is highly possible.
Several clashes between Muslims and Copts take place due to rumours of churches being built, which have often been followed by mobs attacking residents. In most of these cases, state officials physically intervene by deploying riot police, sometimes even surrounding villages, and by sending religious and security officials to push for reconciliation between Muslims and Christians.
In one notorious case that occurred in Minya in May, clashes erupted between Muslims and Copts, leading to the public stripping of an elderly woman. The incident went viral in the media, upon which officials intervened and dozens of suspects were arrested.
Weeks after the arrests and statements by state officials calling for the need of persecuting the perpetrators, the suspects were released.
An example of this is recent strife in Minya, where Muslim and Coptic clerics held an unofficial reconciliation session, ordering Muslim perpetrators to compensate the Copts for the damages done to their houses.
Since May, Minya has witnessed four incidents of violence and violations directed against Copts, ranging from physical assault on houses and places of prayer, to murder, or banning of prayers.
A rumour was circulated about a child daycare centre being transformed into a church.
The recent incidents have been continuously condemned by political parties and groups, with a few pointing fingers at the state.
The Revolutionary Socialists group said in a Sunday statement that it is "normal" for "state-sponsored sectarian violence against Copts to increase in the most recent period". The group added that after the incident, not a single official was sacked, while Coptic priests who refused reconciliation were viewed as "enemies of the state".
The statement highlighted increasing dissent in Coptic circles, who are condemning the violations against them and whose concerns are rejected by the head of the church.
"It seems that the citizenship that Al-Sisi promised Copts during June 2013 is becoming unattainable under 'military rule'," the statement explained.
Copts were an important pillar in the 30 June protests that ousted Islamist president Mohamed Morsi.
The Revolutionary Socialists argued that by "allowing these attacks", the state is telling the Copts that they should either comply, or "will be left as a prey for Islamists and the public who are controlled by reactionary ideas".
Several state media news outlets also focused on the criminal aspect of the incident, whether outside hands were helping to incite sectarianism, and the "peaceful aftermath following the violence".
"It became clear that a trader named Nady Yacoub built a house and changed its second floor into a church despite the local authorities' decision to halt construction due to the absence of necessary permits," Al-Ahram newspaper reported, for example, saying that after the clashes took place "peace returned to the village".
Al-Akhbar also covered the video of a Coptic priest named Mourqs Aziz, which was circulated two days ago with the cleric attacking President Abdel Fattah Al-Sisi and blaming him for the rise of assaults against Copts. Aziz is said to have been "kicked out" of the Coptic Church in Egypt, and is sentenced to death on charges of participating in a film mocking the Prophet Muhammad.
The newspaper quoted several Coptic writers, clerics, and MPs for comment on Aziz's anti-Al-Sisi statements. "Several Coptic figures asserted that the US-based priest does not know anything about Egypt," the article said, adding that "he doesn't represent the Copts who love Al-Sisi and appreciates his sacrifices and efforts to save Egypt from the Brotherhood."
Kamal Zakher, a Coptic writer, is quoted as saying that the violence in the village of Al-Fashn in Beni Suef should not be dubbed as "sectarian strife but [rather] as criminal activities. For example, if the Copt committed a crime, should he be punished by the law of his Muslim neighbour?"
Another Coptic intellectual, Gamal Assad, said in the article that Aziz should demand the return of Native Americans to the US instead of demanding that Copts return to Egypt. This was followed by a statement by MP Margaret Azer saying that the whole video may be fabricated by the Muslim Brotherhood.